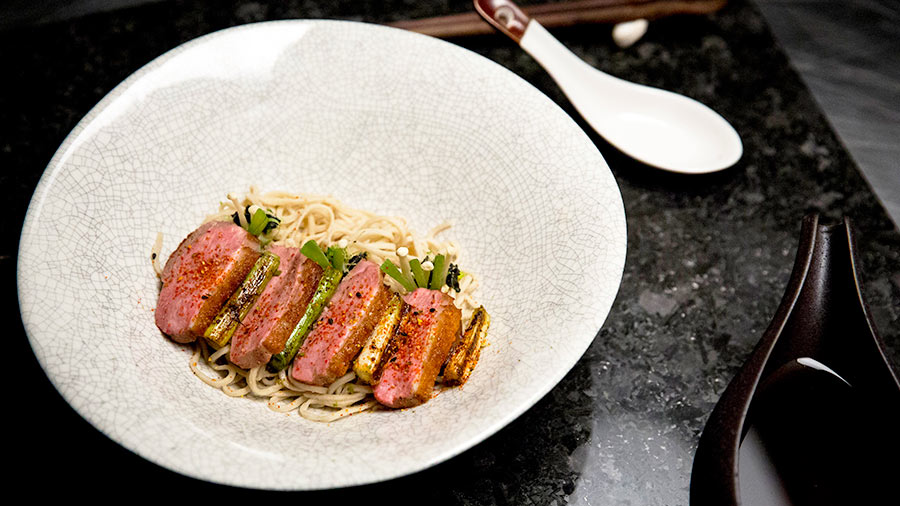 Steps
Preheat oven to 180C
For the Shiitake Mushroom Stock, fill a medium sized saucepan ¾ full with water and add a large pinch of umami salt. Add shiitake mushrooms and place over high heat until softened, about 18-20 minutes. Remove from heat and set aside, keeping hot.
Meanwhile, for the Master Stock, place spring water into a stockpot, add kombu and katsuobushi flakes and place over a low heat for 15 minutes. Strain, reserving stock. Add ginger slices, soy sauces and mirin to the strained stock and return to the pot. Place over high heat and bring to the boil. Once boiling, boil for 3 minutes then reduce heat to medium and simmer for 15 minutes. Add sake and 75ml of the reserved Shiitake Mushroom Stock. Adjust seasoning with soy, mirin and additional Shiitake Mushroom Stock, to taste. Remove 4 shiitake mushrooms from the liquid, slice thinly and set aside for serving. Set Master Stock aside, keeping hot.
For the Soba Noodles, sift buckwheat flour, 00 flour and yam powder into large bowl. Add a pinch of salt flakes to spring water and swirl to dissolve. Pour salted spring water into the bowl of flours, one third at a time, bringing mixture together with fingertips for form a dough. Knead against the side of bowl to remove air bubbles. When a smooth ball has formed, remove from bowl, wrap in cling film and set aside in fridge for 20 – 30 minutes.
Bring a large pot of salted water to the boil. Prepare a bowl of cold water. Remove noodle dough from fridge, unwrap and cut dough in half. Flatten each half, dust in rice flour and pass through pasta machine three times, starting from thickest setting and reducing thickness setting each time. Pass sheets through the noodle cutter attachment. Cook soba noodles in boiling water for 30 seconds, refresh in cold water for one minute then drain and set aside.
For the duck breasts, score skin and season with salt. Place into a large, cold, ovenproof frypan, skin side down. Place frypan over a medium heat for 7 minutes, turn over and cook for a further 2 minutes. Sprinkle katsuobushi powder onto the duck skin and place frypan into the oven for 3 minutes. Remove from oven and set aside to rest for 10-15 minutes, reserving fat for later use.
Trim spring onion bases into 6-7cm lengths, reserving green tops. Chop 4 of the lengths finely and set aside in a small bowl. Reserve remaining lengths for frying. Finely shred green tops and set aside. Place yaki nori sheet in food processor and process until fine, then place into a small bowl with chopped spring onion. Add ginger and mix to combine then set aside for plating.
Add 2 tablespoons of the reserved duck fat to a small frypan and place over high heat. Add spring onion lengths and cook until golden but still crunchy, about 1-2 minutes. Remove from heat and set aside.
To serve, place noodles into the serving bowl to one side. Slice each duck breast into 4 and arrange on top of the noodles. Tuck a slice of mushroom and 2 strips of shredded spring onion under each slice of duck. Place a piece of fried spring onion to the skin side of each slice of duck. Spoon yaki nori mix between duck slices then add enoki mushrooms. Sprinkle duck with a little Japanese chilli powder. Pour in hot stock into bowl and serve immediately.