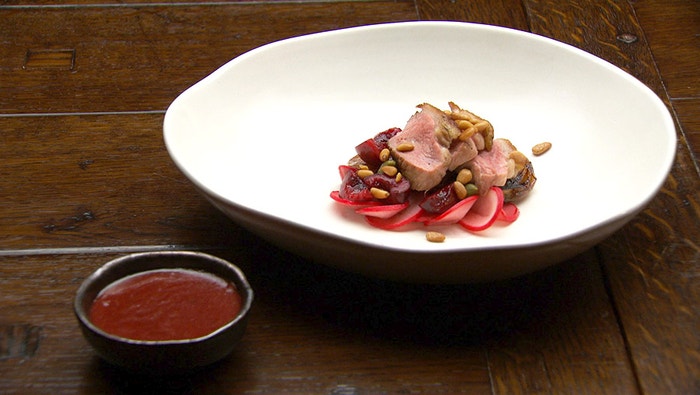 Steps
Preheat oven to 180°C.
Preheat hibachi grill or BBQ. Place three pieces of aluminium foil folded in half onto the hibachi grill or BBQ. Alternatively, use a grill pan over high heat that has been heated to smoking hot. Season duck breast and place skin side onto foil. Render the fat from the duck skin for approximately 20 minutes.
Carefully remove aluminium foil and duck from the grill, reserving duck fat. Place a medium heatproof frying pan onto grill or stovetop. Add 1 tablespoon reserved duck fat into frypan and place duck breasts skin side up in the frying pan and cook for approximately 2 minutes. Remove duck and set aside on a plate loosely covered in aluminium foil for approximately 10 minutes to rest before slicing on an angle.
For the Cherry and Shallot Sauce, place cherries and shallots into a blender, along with 2 teaspoons water and and blitz until smooth. Transfer to small saucepan and add 25g butter and cook on low heat for 8-10 minutes until thickened. Strain into a small saucepan and set aside. Deglaze the frypan used to cook the duck with remaining 25g butter and vinegar, scraping the sediment off the bottom of the pan and moving the butter around in the pan until melted and nut brown. Stir into cherry and shallot puree. Season with salt set aside. Rewarm gently to serve.
For the Pickled Cherries and Radish, combine all ingredients and set aside for approximately 30 minutes to pickle. Drain and set aside.
For the Caramelised Shallots, toss the shallots in the vino cotto and then place onto the grill pan over stove or hibachi for approximately 2 minutes or until charred. Turn the shallots and cook on the other side for approximately 1 minute. Transfer the shallots to a lined baking tray and bake in the oven for approximately 20 minutes or until the shallots are tender and cooked through. Remove from oven and set aside.
To serve, make a cut in the slices of radish and fold in a conical shape and place onto serving plates. Place caramelised shallots on the plates next to the radishes. Lay slices of duck over the radish and arrange pickled cherries onto plates. Sprinkle wtih toasted pinenuts and caperberries. Serve with warm Cherry and Shallot Sauce in a jug on the side..