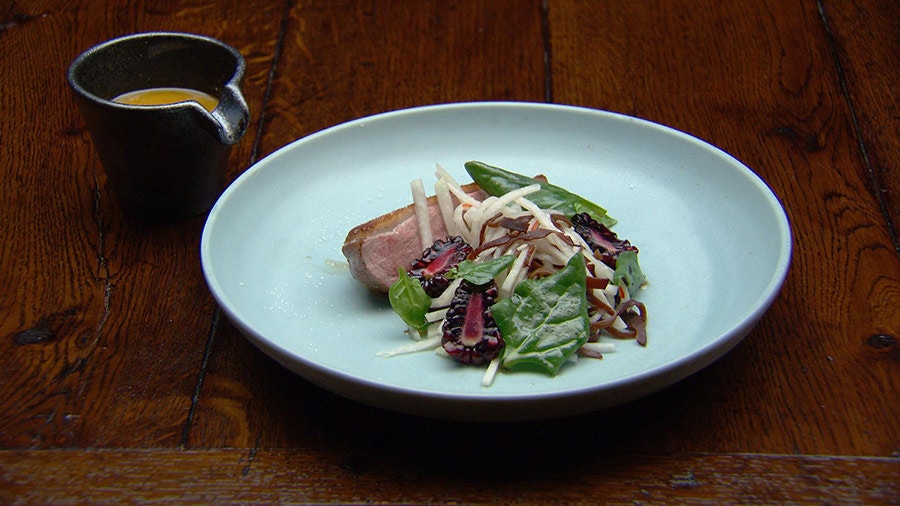 Ingredients
Persimmon and Ginger sauce
Kohlrabi and mushroom slaw
Steps
Preheat oven to 180C.
For the Persimmon and Ginger Sauce, place mushrooms in a medium saucepan, cover with water and bring to a boil over high heat. Remove from heat and set aside until needed.
Chop duck bones into small pieces, place in a large saucepan and set over high heat. Cook, stirring, until browned. Add ginger, chillies and garlic and cook until fragrant and lightly golden. Add juice and simmer until reduced by half. Add dates, sherry vinegar and 2 cups of mushroom water and bring to a boil. Reduce heat to medium and simmer until reduced by half. Add lemon juice, strain into a small saucepan, return to heat and reduce, again, by half. Strain into a serving jug and set aside, keeping warm, until serving.
For the Kohlrabi Mushroom Slaw, peel kohlrabi, cut into matchsticks and place in a bowl. Thinly slice the wood ear mushrooms and add to the bowl.
Place garlic and chilli into a small bowl. Add the sugar, lemon juice and sherry vinegar and whisk to combine. Add to kohlrabi and mushrooms and toss well to combine. Set aside, until serving.
For the Pan Seared Duck Breast, trim the duck breast and lightly score the skin. Rub the skin with salt and place in a large, cold frypan, skin side down. Place over low heat and fry, allowing fat to render, without burning the skin, for 15-20 minutes.
Drain excess fat from pan, turn breast over and place pan in oven for 5-8 minutes or until cooked to your liking. Remove from oven and allow to rest for 10 minutes before serving. Reserve pan juices.
For the Warrigal Greens, remove the leaves from the warrigal greens and coat them in reserved duck pan juices. Season with salt and set aside for serving.
To serve, slice each duck breast lengthways and place onto each serving plate. Add Kohlrabi and Mushroom Slaw and Warrigal Greens. Garnish with blackberry halves and serve with Persimmon Ginger Sauce on the side.