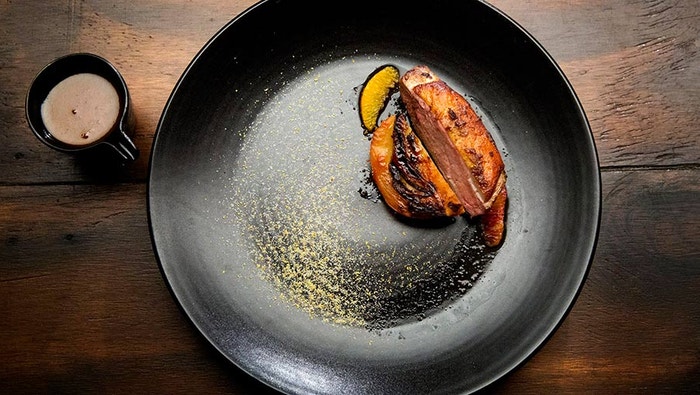 Steps
Preheat oven to 215C
For the Sauce, heat a large frypan over high heat. Add the chopped duck and sear until golden brown. Discard any excess rendered duck fat from the pan. Remove pieces of browned duck and set aside on a plate, reserve the pan on the heat. Add the celery, onions and carrots into the pan and fry until golden brown. Return the duck pieces to the pan and deglaze with the brandy. Add water and continue cooking until reduced by half.
Add orange juice, reduce heat to low and simmer for 30 minutes. Strain through a fine sieve into a clean small frypan. Place over medium heat and reduce until slightly thickened. Remove from the heat and whisk in butter until fully combined. Season to taste then transfer to a serving jug.
For the Orange Salt, spread the orange peel onto a paper lined roasting tray. Place into the oven until dehydrated, about 8 -10 minutes. Transfer to a mortar and pestle or small food processor along with the salt and sugar and grind together to a fine powder. Set aside.
For the Burnt Fennel, season the fennel bulb with salt and pepper. Place seasoned fennel, cut side down, in a small frypan with the olive oil over low heat until charred. Once charred, turn the fennel and cook on the other side to colour slightly.
Meanwhile, place the blood orange juice in a small frypan over medium heat and reduce by half. Remove from the heat. Once the fennel is cooked, place face side down into the pan of blood orange reduction and set aside.
For the Duck Breast, lightly score the skin of the duck breast. Season with the Orange Salt. Place duck breast, skin side down, into a cold, ovenproof frypan. Place frypan over low to medium heat and cook until the skin has rendered and become crisp, about 6-7 minutes.
Turn duck breasts over and transfer to the oven. Reduce oven heat to 200C and cook until medium rare or 50C internal temperature, about 4-5 minutes, or until cooked to your liking. Remove from the oven and transfer duck breasts onto a wire rack to rest.
To serve, cut Duck Breast in half lengthways. Place one portion of duck onto the right hand side of each plate with the cut side facing left. Cut each piece of fennel in half. Place a portion of fennel to the left of the duck and brush with some of the blood orange reduction. Place 1 segment of blood orange to the side of the fennel and a second next to the duck. Spoon some of the Orange Salt into a small sieve and sprinkle over the left hand side of the plate.