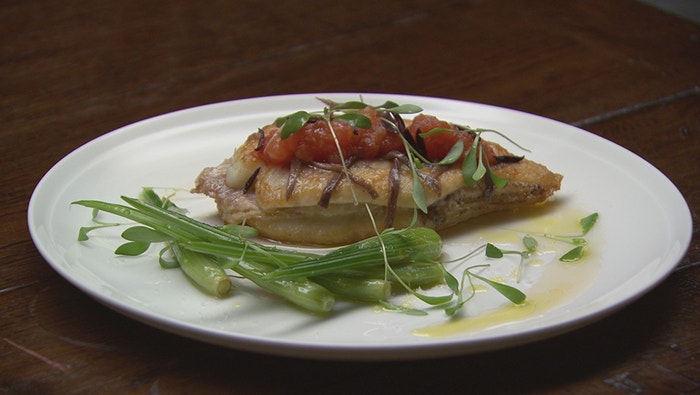 Steps
Preheat oven to 200C.
Set a 3 litre saucepan of water over high heat, season with salt, and bring to the boil.
To prepare the dory, start by cutting behind the head to remove wings. Cut along the backbone from the head to tail, on both sides, then cut along the underside from head to tail on both sides. Square the tail off then remove head. Using scissors, trim the top fins and internal cartilage. Repeat this for the underside. Pinch skin at the head end to pull away from the flesh slightly, carefully use a knife to cut skin away from flesh on a slight angle. Trim and clean up piece, removing any excess cartilage. Season with salt and set aside
Snip micro coriander and place into a bowl of iced water to refresh.
Finely chop shallots and set aside, finely chop garlic and crush to form a paste and set aside.
To prepare the finger fennel, remove outer layers and trim base. Slice fennel diagonally at the middle and discard fronds. Reserve bulbs.
Thinly slice anchovy fillets lengthways, into long strips, and set aside.
To prepare the olives, slice off thin cheeks either side of the pit. Cut flesh into thin match-stick-sized strips and set aside.
To prepare the tomatoes, remove core from top and use a small knife to score bottom with a criss-cross cut.
Once water is boiling, add tomatoes and blanch for 5 seconds then remove and plunge straight into an ice bath. Keep water on heat in preparation for the fennel.
Quarter tomatoes and use a small knife to remove core and seeds. Place tomato skins onto a clean tray lined with white hux and pat dry to remove any excess moisture. Dice tomatoes to 5mm and set aside.
To cook the dory, heat some olive oil in a small frypan over medium heat. Once frypan is hot, place dory into pan until golden, about 3-4 minutes. Flip dory and place pan into the oven nape' every 2 minutes with pan oil until cooked, about 7 minutes. Remove from oven and set aside to rest.
Meanwhile, heat olive oil in 2 more small frypans on high heat. In one saucepan, add shallots and garlic and sweat off. Add diced tomato and thyme and cook until just softened, tossing continuously. Remove from heat and set aside.
Place fennel into saucepan of boiling water and blanch for 4 minutes. Remove and plunge into an ice bath.
Add fennel to second hot frypan and season with salt, use a spoon to glaze fennel with oil then remove from pan and set aside. Reserve fennel oil in pan for plating.
To plate, place anchovy strips on the bias across the surface of the fish in two directions to create a criss-cross pattern. Spoon a line of tomatoes across the middle of the fish, lengthways, and sprinkle some slices of olive.
Arrange fennel to the right of the fish, overlapping each tip to create a curved line.
Drizzle some reserved fennel oil over the fish and fennel, and around the plate. Season with salt and lemon and finish with micro coriander.