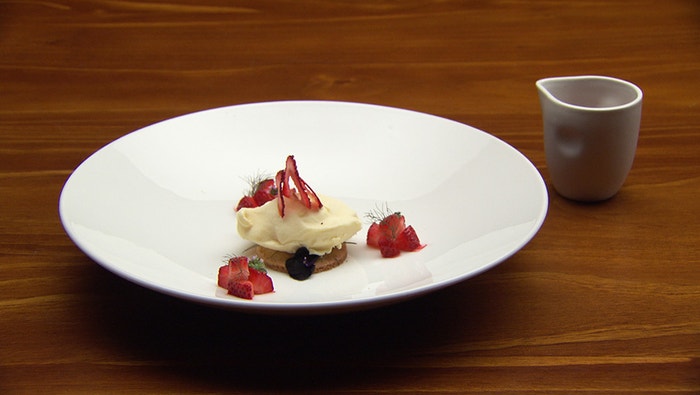 Steps
Pre chill ice cream machine. Preheat oven to 70C.
For the Rosewater Ice Cream, heat the cream, milk and vanilla in a small saucepan over medium heat until just below boiling point. Meanwhile, place egg yolks and sugar into a bowl and whisk until thick and pale.
Once the cream mixture has heated, remove from heat and pour it into egg mixture while whisking continuously until fully incorporated. Place mixture into a clean saucepan and add rosewater. Cook over a low heat, stirring continuously, until mixture thickens and coats the back of a spoon.
Pour through a fine sieve into a medium bowl and place over an ice bath to cool. When cool, transfer to ice cream machine to churn. Allow to churn for approximately 30 minutes or according to manufacturer's instructions before placing ice cream into freezer.
For the Dehydrated Strawberries, use a mandolin to thinly slice the strawberries.
Place them onto a lined baking tray and place in oven to dry out for 40 minutes. Remove from oven and set aside to cool. Increase oven temperature to 180C.
For the Strawberry Consomme, dice the strawberries into small pieces and place it in a bowl along with sugar. Cover bowl with cling film then place bowl over a pot of simmering water. Allow strawberries to reduce for 40 minutes. Remove bowl from heat and allow to cool. Strain through a fine mesh sieve into a serving jug. Set aside.
For the Champagne Marinated Strawberries, dice the strawberries into 1cm pieces. Place into champagne and set aside to macerate for 30 minutes.
For the Thyme Sable, place all ingredients, except thyme leaves, into the bowl of a food processor and pulse until ingredients come together. Transfer to a sheet of baking paper, add thyme leaves and bring mixture together to form a ball. Roll out over baking paper to a few 2-3mm thick and place it on a tray. Rest the pastry in the freezer for 10 mins.
Bake in the 180C oven until golden brown, about 15 minutes. Remove from oven and while hot, cut out rounds using a 6cm cutter. Set aside to cool.
To serve, place a round of Thyme Sable into the base of each serving bowl. Arrange Champagne Marinated Strawberries evenly in 3 piles around sable. Top with a rocher of Rosewater Ice Cream and place dehydrated strawberries on an angle on top of the ice cream. Garnish with fennel fronds, thyme flowers, rose petals and violets and serve with a jug of Strawberry Consommé on the side.