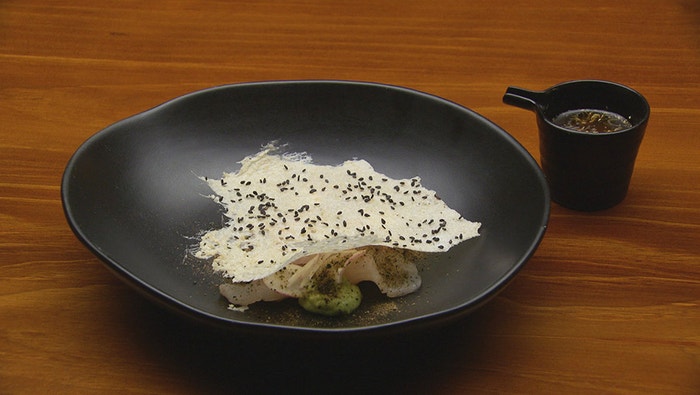 Steps
Preheat oven to 180°C.
For the Rice Crisp, cook rice using absorption method on packet. Transfer cooked rice to a blender, add 4 tablespoons cold water and blitz to form a smooth purée.
Line a baking tray with a silpat mat. Spread a 2mm thick layer of the rice purée on to the silpat mat using an offset spatula. Sprinkle with sesame seeds and salt.
Bake rice purée in the pre-heated oven until crispy and dry, about 30 minutes. Once dry remove from oven and set aside until needed.
For the Pickled Turnips, place vinegar, sugar and salt into a small saucepan and bring to the boil. Remove from heat and cool slightly. Once cool, add sliced turnips and set asie to pickle for 30 minutes. Once pickled, strain the turnip slices and set aside in a small bowl until needed.
For the Avocado and Wasabi Purée, place all ingredients in a mixing bowl and mix together with a fork until smooth.
Pass the mixture through a fine sieve, then transfer to a piping bag. Set aside in the fridge until needed.
For the Caper Togarashi, place capers and caper leaves on a baking tray lined with baking paper. Bake the capers and leaves until dry and crispy, about 15 minutes.
Transfer the dried capers and leaves to a spice grinder, add the wakame and blitz to a fine powder. Set aside until needed.
For the Citrus Ponzu Dressing, mix all ingredients in a bowl to dissolve sugar. Taste and adjust seasoning if necessary. Transfer the dressing to a jug and set aside until needed.
For the Kingfish Sashimi, slice the kingfish very thinly into 32 slices. Set aside in the fridge, covered with cling film, until ready to serve.
To serve, arrange 8 thin kingfish slices into the base of each shallow serving bowl. Pipe 3-4 rounds of Avocado and Wasabi Purée around the kingfish, scatter over some Pickled Turnip rounds and fresh turnip matchsticks and sprinkle with Caper Togarashi. Cover kingfish with a large shard of Rice Crisp and serve with Citrus Ponzu Dressing on the side.