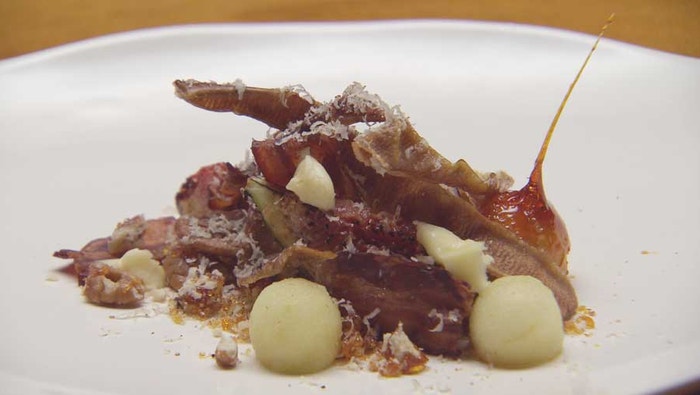 Steps
Preheat oven to 160C.
For the ice cream, place cream, milk, honey and rosemary in a pan and bring to a boil. Remove from heat and set aside to allow the rosemary to infuse.
Place egg yolks and sugar in a mixer and beat until thickened and pale in colour. Strain milk mixture and slowly pour over the egg mix, while beating, and transfer to a pan. Stirring continuously, cook gently on a low heat until the custard has thickened and coats the back of a wooden spoon. Remove from heat, strain and cool mixture over an ice bath. Transfer to an ice cream machine and churn according to manufacturer's instructions. Place in freezer.
For the blue cheese foam, place cheese and cream in a pan until cheese has melted. Remove from heat and cool over an ice bath. Transfer to a siphon gun and use 2 chargers. Shake well and place in fridge.
For the praline, place pecans on a lined baking tray. Cook sugar to a deep caramel colour and pour over pecans. Set aside to cool and set. Once set, roughly crush the praline and set aside.
For the crispy apple skin, coat apple peel in oil and sugar and cook until dried and golden, about 20-25 minutes.
Place kaiserflesch on a baking tray and bake until crispy, about 15 minutes. Set aside.
For the toffee poached apple, use a melon baller to scoop 3 small and 2 large apple balls out of the apple. In a small pan combine water, ½ cup sugar and star anise and bring to a boil. Add apple balls to the syrup and lower heat to a simmer for 5 minutes. Remove from liquid and pierce each ball with a skewer.
Place remaining sugar in a separate pan and cook to a deep caramel colour. Dip apple balls into caramel and set aside on a paper lined tray to set.
For the charred figs, sprinkle sugar over figs. Using a blow torch, caramelise the sugar. Drizzle with honey.
To assemble, arrange figs, ice cream and toffee apple balls on the plate. Garnish with praline, bacon and crispy apple skin. Finish with a dollop of blue cheese foam and sprinkle grated pecans over the top.