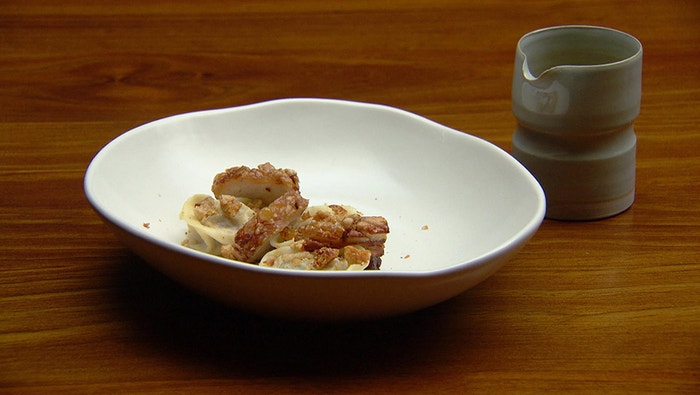 Steps
Preheat oven to 250C.
For the Roast Pork, remove skin and bones from the pork belly. Reserve bones for Pork Broth. Cut a 400g boneless portion from the pork belly and reserve for Pork Dumplings.
Score skin, rub generously with salt and allow to sweat for 5 - 10 minutes. Using a clean dry tea towel, wipe away salt.
Season skin with more salt and season the meat section of the pork belly with black pepper. Place both on a medium baking tray and place in oven. Cook for 30 minutes then reduce heat to 200C. Continue cooking until skin is crisp and dry and meat is tender, about a further 40-45 minutes. Remove from oven and set aside, keeping meat warm, until serving.
For the Pork Broth, using a meat cleaver, chop the pork bones into small pieces. Place grapeseed oil in a large saucepan and set over high heat. Add chopped bones and cook until brown. Add guanciale to the pan and cook until caramelised. Add carrots, celery and onion and cook, stirring regularly, for 10 minutes. Add 4 cups of water, bring to a boil then reduce heat and allow to simmer until reduced by half, about 30 minutes. Remove from heat and strain into a medium saucepan. Add sugar and lemon juice and stir to combine. Season with salt, cover and set aside, keeping warm, until serving.
For the Pork Dumplings, place flour and 1 teaspoon of salt onto a bench and make a well in the centre. Place yolks and 100ml water into the well and bring together to form a soft dough, adding more water if necessary. Knead the dough until smooth, about 4 - 5 minutes. Wrap in cling wrap and allow to rest at room temperature for 15 minutes.
Divide the dough in half and, pass each portion through a pasta machine, starting on the thickest setting and continuing until second thinnest setting is reached.
Using a 10cm ring cutter, cut 12 rounds from the dough sheets. Set aside, covered with a damp cloth.
For the filling, trim the reserved pork belly meat, then mince and place in a bowl. Add onions, celery leaves, remaining teaspoon of salt and black pepper and mix until well combined.
Divide filling into 12 portions and place a portion in the centre of each round. Fold rounds in half, pressing gently to remove air and sealing edges with a little water. Bring the two corners together and press, forming into a dumpling shape. Repeat until all dumplings are made.
To serve, bring a large saucepan of lightly salted water to a boil. Add Pork Dumplings, in batches, and cook for 4 minutes. Remove from water with a slotted spoon and place 3 dumplings in each serving bowl.
Slice the Roast Pork belly into 12 equal slices and add to the bowls. Crush the pork belly crackling into small pieces and sprinkle over the meat. Serve with hot Pork Broth on the side.