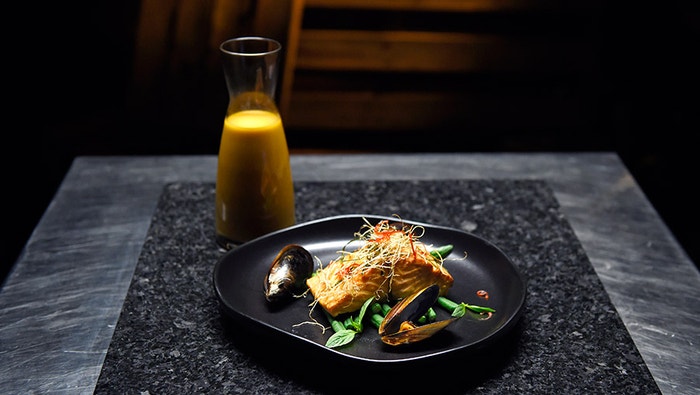 Steps
Preheat oven to 180C.
For the Stock, heat a large saucepan over medium heat, add chicken drumsticks and fry off until golden. Add celery, shallots and carrot and fry until softened and lightly caramelised, about 5 minutes.
Add lemongrass, kaffir lime leaf, and 1 litre of water and simmer for 15 minutes. Add 3 green mussels and simmer for 5 minutes. Strain stock with a fine sieve, reserve kaffir lime leaf and lemongrass, and return pot to stove on low heat to keep warm.
For the Curry Paste, place belacan onto a baking tray and into the oven until fragrant, about 3-4 minutes then remove from oven and set aside.
Place dried large red chillies in a bowl of hot water to soften.
Place belacan, rehydrated large red chillies, red chillies, galangal, ginger, garlic, lemongrass, kaffir lime leaf, coriander and shallot in a food processor with 1tbsp of oil. Blend to a paste and transfer to a large pot and sauté until fragrant, about 5-7 minutes.
For the Red Coconut Broth, add the stock and coconut milk to the large pot of Curry Paste and reduce heat to simmer. Add reserved kaffir lime leaf and lemon grass from the stock. Simmer until broth has slightly reduced. Adjust seasoning with more stock, fish sauce and lime juice, to taste. Strain broth into a carafe and set aside, keeping warm.
For the Snake Beans, prepare a bowl of iced water and set aside. Bring a medium saucepan of water to the boil. Add cut snake beans and cook until bright green, about 1-2 minutes. Remove from boiling water and immediately plunge into iced water. Drain off and set aside in a bowl until required.
To prepare the Fried Chillies and Spring Onion, heat vegetable oil in a small saucepan over medium heat. Add spring onion and chilli slices and fry until crisp. Remove from oil and set aside on paper towel until required.
To prepare for the Smoked Salmon and Mussels, increase oven temperature to 200C. Place a bamboo steamer in water to soak for 1 minute, remove from water and set aside.
Place salmon fillets onto a tray, sprinkle with brown sugar and sea salt flakes and set aside to marinate for 5 minutes.
For the Smoked Salmon and Mussels, line a wok with aluminium foil. Place some applewood smoking chips and oolong tea leaves into the lined wok and place over high heat until the chips begin to smoke. Reduce heat to medium and place pre-soaked bamboo steamer into the wok so that it is sitting over the smoking chips.
Rub a small amount of oil onto the bamboo steamer base to prevent salmon from sticking. Add reserved marinated salmon fillets and cover with bamboo steamer lid. Smoke until medium rare, about 10-12 minutes. Remove salmon fillets and set aside. Add mussels to steamer, cover and smoke for 3 minutes. Set aside until required.
To finish salmon, place 1tbsp of olive oil into a medium frypan over high heat. Add reserved smoked salmon fillets, skin side down, and fry until skin is crisp. Flip fillets and sear on other side then remove from pan.
To plate, arrange some snake beans on the plate. Place a fillet of salmon, skin side down, on top of the beans. Garnish with fried chillies, spring onion, and some Thai basil leaves.