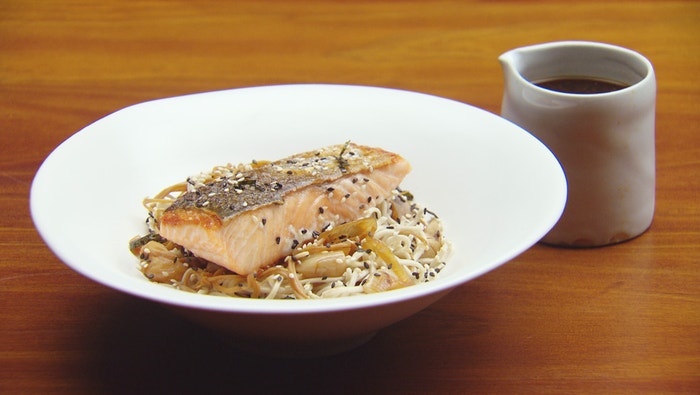 Steps
Preheat oven to 180C.
For the Japanese Broth, place the ingredients along with 1.5 litres of water into a medium saucepan and place over high heat. Bring to the boil then reduce heat to low and simmer for 45 minutes.
Strain through a fine sieve into a small saucepan and set aside. Reserve the mushrooms in a large bowl. Cover to keep warm.
For the Soba Noodles, place a large saucepan of salted water over high heat and bring to the boil.
Combine the buckwheat and plain flours in a medium sized mixing bowl and make a well in the centre.
Add 35ml warm water into the well and use fingertips to combine then gradually add 60-70ml water and mix until a rough dough forms.
Transfer the dough onto a clean work surface and knead, adding more flour or water as required to make a smooth, firm dough.
Cut dough into four portions. Flatten out one portion and dust each side with plain flour. Cover remaining portions with a clean, dry tea towel.
Pass dough through a pasta machine on the widest setting. Fold the dough in half and pass through attachment, repeating the folding process several times until is smooth.
Gradually decrease the setting on the pasta machine until almost the at the thinnest setting. Set aside and repeat process with the remaining portions of dough.
Pass the sheets of dough through the spaghetti attachment. Toss the noodles in plain flour and set aside.
For the Crispy Skin Salmon, place a medium, oven safe non-stick frypan over medium heat.
Dry the salmon skin with paper towel and season the salmon on all sides with salt.
Place the salmon, skin side down, into the frypan. Press on the fillets with a spatula for 1 minute then continue to cook until skin is crispy, a further 3-4 minutes.
Turn salmon fillets over then transfer to the oven to cook for a further 3 minutes or until cooked to your liking. Remove salmon from the frypan and set aside.
Once the water comes to a rapid boil, add the noodles and stir immediately to prevent them from sticking together. Cook for 30-45 seconds, strain through a colander and immediately refresh in a bowl of cold water.
Allow noodles to cool for 1 minute before straining again. Drizzle with sesame oil and toss with the mushrooms. Divide between four serving bowls. Top each with a portion of Crispy Skin Salmon and sprinkle with shredded nori. Finally, pour the hot Japanese Broth around the noodles and serve.