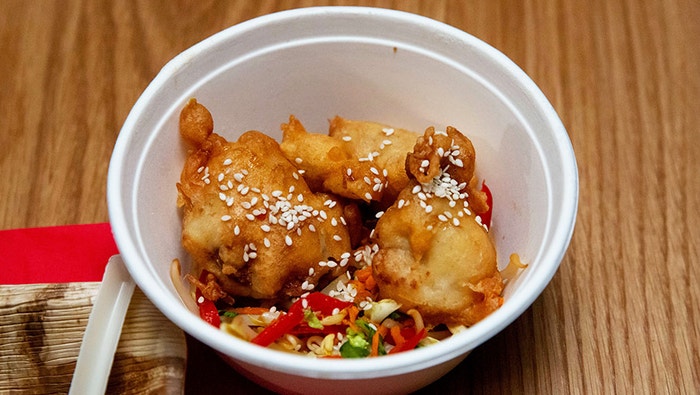 Steps
Preheat oil in deep fryer to 180C.
For the Crispy Honey Pork, combine 50g plain flour, five spice and salt in a medium bowl. Add the pork and toss through until evenly coated.
Place the remaining plain flour, self raising flour, soda water and a pinch of salt into a medium bowl and whisk together until almost smooth. Set aside in the fridge until ready to fry.
Remove the excess flour from the cubed pork. Coat in the batter and deep fry, in batches, until golden brown and crispy, about 10 minutes. Remove from the oil and place onto paper towel.
Meanwhile, for the honey coating, place the honey, soy sauce, rice wine vinegar and sesame oil into a small saucepan over low heat. Simmer gently until syrupy, about 5-6 minutes. Remove from the heat and set aside.
For the Asian Slaw, place the vinegar, soy sauce and sesame oil into a small glass jar and shake well to combine.
Place the remaining ingredients into a medium bowl. When ready to serve, add the dressing and toss to combine. Transfer to a serving bowl.
To serve, arrange the pork onto a large serving plate. Drizzle with the honey coating and sprinkle with sesame seeds. Serve with the dressed Asian Slaw on the side.