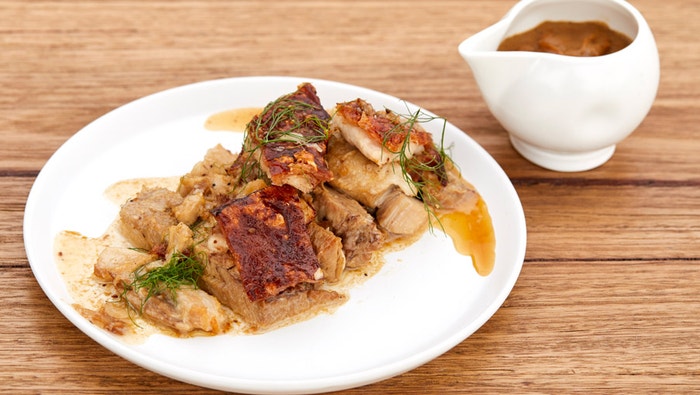 Steps
Preheat oven to 250C.
For the Pork Belly, place the apples, onions, garlic and fennel into a deep baking dish, drizzle with 20ml olive oil and toss to combine.
Season the pork belly flesh with salt and pepper, sprinkle with ground fennel seeds and drizzle with 20ml olive oil.
Turn pork belly over and pat skin dry with paper towel. Score the skin in a crisscross pattern with a sharp knife 2mm deep and rub well with salt. Drizzle with 30ml olive oil, rub into the skin and rub in more salt.
Place the pork into the baking dish with the apples and vegetables and bake for 30 minutes.
Remove the baking dish from the oven and pour the stock and vinegar into the dish around the pork, ensuring the pork flesh, but not the skin, is immersed in the liquid.
Reduce the temperature of the oven to 160C and cook until the pork is tender, about 2 hours. Add some water to the baking dish if required.
Remove from the oven and transfer the pork to clean baking tray. Set oven to the grill setting and place the pork onto the centre shelf of the oven and grill until the skin crackles, taking care not to burn the skin.
Remove from the oven and rest the pork for at least 10 minutes before carving into 1cm thick slices. Cover loosely with foil to keep warm.
Transfer the roasted apples and vegetables into a blender along with the honey, mustard and about 1/4 cup of pan juices. Blend, adding more pan juices as required, to a thick smooth sauce. Season to taste.
To serve, place sliced pork onto a large serving platter. Garnish with fennel fronds and serve with the sauce on the side.