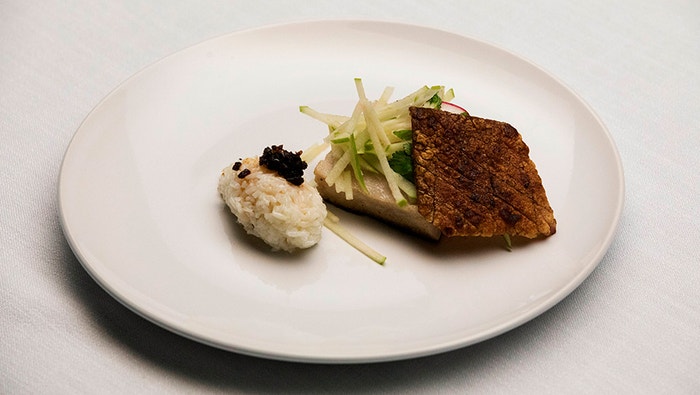 Steps
Preheat oven to 200C.
For the Roasted Pork Belly, score the skin of the pork belly and rub in three quarters of the salt. Set aside to sweat for 15 minutes.
Wipe salt away with a clean cloth and rub skin dry with paper towel. Coat skin with remaining salt and half of the five spice powder. Coat the meat of the pork belly with remaining five spice powder.
Place in a large roasting tray and place in oven. Roast for 1hr 30 minutes. Increase oven to 250C and continue roasting until skin has crackled and pork is cooked through and tender, about 30 minutes. Remove from oven and rest for 20 minutes, until serving.
For the Thai Chilli Jam, place peeled garlic cloves in a frypan and set over low heat. Dry fry until lightly browned, about 4-5 minutes. Remove from pan and transfer to a food processor. Repeat process with shallots and ancho chillies. Process together to a fine paste and set aside.
Place dried chillies into a spice grinder, process until finely crushed and set aside.
Place a medium sized saucepan over medium heat and add peanut oil. Add the garlic paste and crushed dried chilli and sauté until it develops a deep rich colour, about 5 minutes. Add dried shrimp and continue to cook to develop the flavours, about another 5 minutes.
Add Thai shrimp paste and 125ml water and continue cooking, stirring, until mixture resembles a soft jam.
Reduce heat to low, add tamarind paste, fish sauce, palm sugar and caster sugar and continue to cook for another 5 minutes, stirring continuously, adding more water if mixture appears to be drying out. Taste and adjust as required with fish sauce, tamarind or sugar until a good balance of sweet, sour and salty. Transfer to a small serving bowl and set aside until serving.
For the Fragrant Rice, place rice, lemongrass, star anise, salt and 500ml water in a pressure cooker. Mix well, seal pressure cooker and cook on high for 6 minutes. Rest for 5 minutes then transfer from the pressure cooker to a bowl. Alternatively, cook rice using rice cooker or stove top method.
Place coconut oil in a small saucepan and set over medium heat. Once hot, pour over the rice and mix until combined. Set rice aside, keeping warm, until serving.
For the Apple Salad, prepare an ice bath in a medium bowl and add the juice of 1 lemon. Using a mandolin, slice apples and place in the ice bath to prevent turning brown.
Slice radishes into matchsticks 2mm thick and place in a bowl. Drain the apples and add to radish. Add mint leaves and coriander leaves and toss to mix. Cover and place in fridge until serving.
For the dressing, whisk juice of remaining lemon, olive oil and salt together in a bowl and set aside until serving.
To serve, remove apple mix from fridge, pour dressing over and toss to coat. Trim crackling from the Roasted Pork Belly, reserve and slice pork. Place slices of Roasted Pork Belly on each serving plate. Top with ¼ cup of dressed Apple Salad and cover with reserved pieces of crackling. Place a spoonful of Fragrant Rice next to the pork belly and finish with a heaped teaspoon of Thai Chilli Jam.