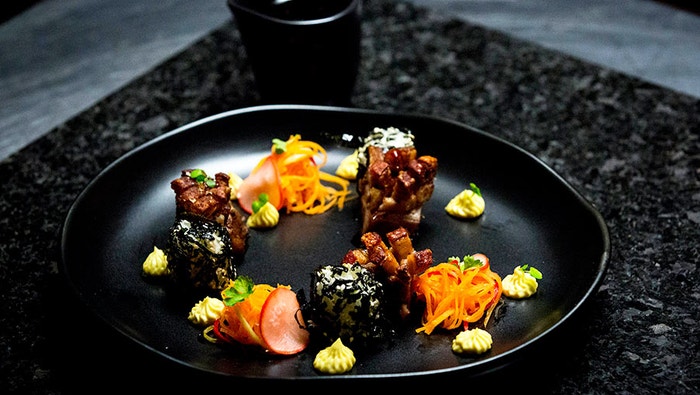 Steps
Preheat oven to 220C.
For the Pork Belly, first make the spice rub by combining star anise, cloves, fennel, cinnamon Szechuan peppercorns and salt in a mortar and pestle and grinding together to a fine powder.
Prepare the pork belly by scoring the skin with a knife in diagonal lines across the skin, 1cm apart. Score the skin again on the opposite side to create a diamond pattern. Rub the spice mix into the skin, ensuring to fill all crevices.
Cut the pork into 4 evenly sized square portions and place skin side up, into a deep 25cm x 25cm roasting tray. Add chicken stock to the tray and top up with water to just below the level of the skin. Cover the meat with aluminium foil and place into the oven to roast for 20 minutes.
Remove the foil from the meat and reduce the oven temperature to 200C. Place back into the oven and continue to cook pork for 20 minutes.
Remove from the oven and discard liquid from roasting pan. Sit pork on a rack and place back into the same roasting pan. Change oven to grill setting and return pork to the oven on middle rack until the skin has crisped, but not burnt, about 10-12 minutes. Remove from oven and set aside to rest.
For the Wasabi Mayo, place egg yolks, mustard and lemon juice into a canister. Insert stick blender and set to medium speed. With the blender running, gradually pour in the grapeseed oil until fully emulsified and thick. Add a little water to the mayonnaise to loosen if mayonnaise is too thick. Stir in wasabi and season to taste, then transfer to a piping bag and set aside in the fridge until required.
For the Caramel Sauce, place brown sugar in a small saucepan with a ½ a cup of the chicken stock over low heat and stir until dissolved. Add remaining chicken stock, star anise, cloves, cinnamon and chillies and continue to simmer for a further 10 minutes. Add red wine vinegar and soy and continue to cook, stirring occasionally until slightly reduced. Add a pinch of salt, reduce heat to low, and continue to cook until the sauce has reduced to a syrup consistency, about 30-40 minutes. Adjust seasoning with the soy and red wine vinegar to taste if required. Remove from heat, and strain through a sieve into a jug then set aside until needed.
For the Rice Cakes, first spray a 24cm x 16cm deep tray with canola spray then line with cling film and set aside until required.
Place rice into a sieve and rinse under water until the water runs clear. Place rice into a large glass bowl and add enough water to cover the rice by 1cm. Add a pinch of salt and cook in the microwave until cooked, about 13-15 minutes.
Once cooked, drain rice well and pour into the pre-lined tray. Use an offset spatula to push rice down so that it is compacted. Lay another layer of cling film onto the rice then transfer to the freezer until firm, about 12-15 minutes.
Remove from freezer and use a 2.5cm circle cutter to cut out 12 cylinders of rice and place onto a clean tray lined with baking paper.
Place nori strips onto a plate and sesame seeds onto a second plate. Roll the rice cylinders in the nori and then the sesame then place back onto the tray.
Heat a medium sized frypan over medium heat and add some grapeseed oil. Add some of the rice cylinders and fry in batches until golden and crisp on all sides then remove from pan and drain on paper towel.
For the Pickled Vegetables, combine vinegar, star anise, cloves, cinnamon sugar and salt in a small saucepan over medium heat and cook, stirring, until sugar has dissolved.
Meanwhile, combine carrot, chilli and spring onion in a medium bowl. Once pickling liquid is ready, remove from heat and allow to cool slightly. Pour warm liquid over the vegetables and set aside to pickle for 30 minutes.
For the Pickled Radishes, place verjuice, sugar and salt in a small saucepan over high heat and cook until sugar has dissolved. Place sliced radishes in a bowl. Once pickling liquid is ready, remove from the heat and allow to cool slightly. Pour warm liquid over the radishes and set aside to pickle for 20 minutes.
To serve, cut rested Pork Belly into 12 even sized pieces. Place 3 pieces of pork on each plate. Place a spoonful of the Pickled Vegetables onto the plate next to the each piece of pork belly in a nest style shape. Pipe 3 mounds of Wasabi Mayo around the plate. Place 3 Rice Cakes onto the plate and add a few slices of Pickled Radish. Finish with some micro coriander and micro radish and serve with Caramel Sauce on the side.