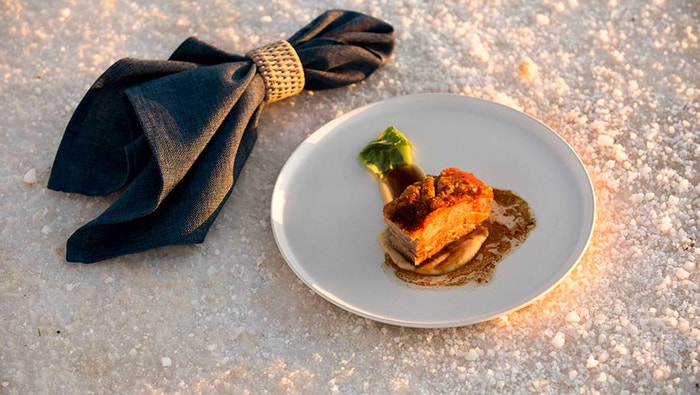 Steps
Heat oven to 250C.
For the Crispy Pork Belly, debone pork belly and reserve bones for the Prune Jus.
Score the surface of the pork skin in a criss-cross pattern and rub in the salt flakes. Grease a large roasting tray with the oil, add the pork belly and roast in the pre-heated oven for about 60 minutes.
After 60 minutes, add the chicken stock and continue to roast until pork flesh is tender and most of the liquid has evaporated, about a further 30 minutes.
Change oven to grill mode and set to highest temperature. Grill the pork belly, without burning, until skin is puffed and crackled. Remove from oven and set aside to rest until needed.
For the Prune Jus, set a pressure cooker to browning mode. Add the oil and pork bones and cook until bones are well caramelised. Add the stock and prunes, along with 250ml water, seal the lid and cook on high pressure for 15 minutes.
Release pressure, remove lid and set pressure cooker to sauté mode. Continue simmering and reducing sauce until slightly thickened, about 30 – 35 minutes. Once thickened, add in reserved pan juices and a small amount of the pork fat. Season with vinegars and salt to taste, then strain through a fine sieve into a small saucepan. Set aside, keeping warm, until needed.
For the Pickled Cauliflower Leaves, gently heat the vinegar, sugar and salt in a small saucepan over medium heat until sugar and salt disolve.
Discard the tough outer cauliflower leaves and place the trimmed inner leaves into a large bowl. Pour the pickling liquid over the picked cauliflower leaves and set aside to pickle for 30 minutes. Once pickled, drain the cauliflower leaves and set aside until needed.
For the Cauliflower Purée, set a clean pressure cooker to sauté mode. Add butter and onions and cook, stirring occasionally, until onions are soft, about 4-5 minutes. Add reserved cauliflower florets, milk and stock, then seal the pressure cooker with the lid. Cook at high pressure for 10 minutes. Release pressure and strain the contents of the pot through a fine sieve, reserving the cooking liquid. Transfer the cooked cauliflower and onion to a blender and add a small amount of the cooking liquid. Blitz until smooth, adding small amounts of the reserved cooking liquid as needed to achieve a smooth purée. Season to taste and set aside, keeping warm, until needed.
To serve, place Cauliflower Purée on the base of 6 large serving plates. Slice Crispy Pork Belly into 6 generous slices and lay over the purée on each plate. Drizzle over several tablespoons of the Prune Jus and garnish with a few Pickled Cauliflower Leaves.