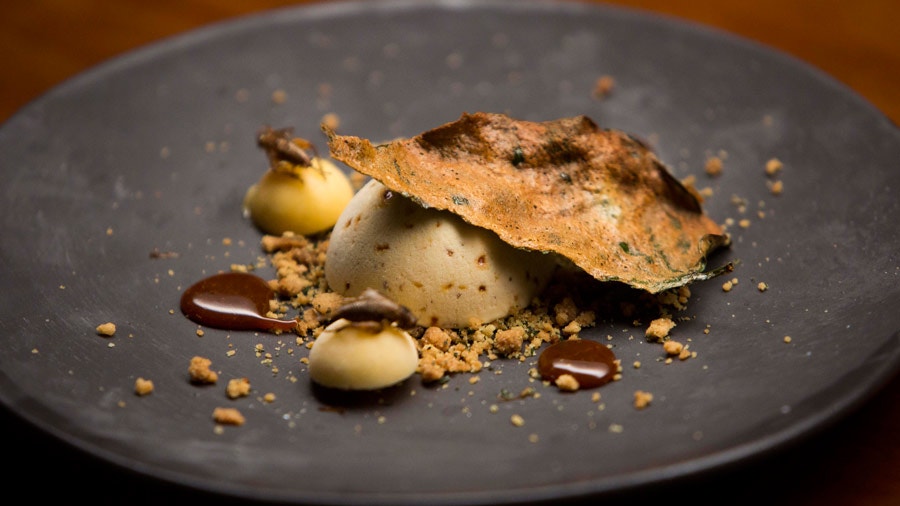 Steps
Preheat oven to 180C.
For the Cricket Semifreddo, heat enough grape seed oil in a small saucepan or deep fryer to 180C. Deep fry crickets for 2-3 minutes until crisp. Remove from oil, set aside on kitchen paper to drain. Reserve 18 crickets for garnish.
Place remaining 12 deep fried crickets onto a baking tray lined with baking paper. Place ½ of the caster sugar in a small fry pan over medium heat and allow to melt and caramelise until amber. Remove from heat and pour half the caramel over the fried crickets and set aside to cool.
Add 100ml of the cream to the remaining caramel in the pan and whisk to a smooth caramel sauce. Set aside. Keeping warm until needed.
Once cricket praline has cooled and hardened, break into shards and place in the bowl of a food processor and blitz to a medium crumb. Set aside until needed.
Place eggs, egg yolk and remaining caster sugar in a heatproof bowl over a saucepan of simmering water. Whisk until pale and tripled in volume. Remove bowl from heat and allow to cool.
In a separate bowl, whisk remaining 300ml cream to stiff peaks. Fold cream into cooled egg mixture then add cricket praline and fold through. Spoon the semi-freddo mixture into six 11cm dome moulds and set aside in the freezer to harden.
For the Lime Curd, place sugar, lime juice and eggs into a small saucepan over low heat and stir continuously with a silicone spatula until thick. Remove from heat and stir in butter until melted and fully incorporated. Strain the curd mixture through a fine sieve and spoon into 18 x 1.5cm dome moulds. Place in the freezer to freeze until needed.
For the Betel Leaf Crumb, combine flour, sugar and butter in a bowl and mix with fingertips to a fine crumb. Spread the mixture evenly onto a baking tray lined with baking paper and bake for 12-14 minutes in the pre-heated oven until golden brown.
Place betel leaf onto a small baking tray lined with baking paper. Bake for 12-15 minutes until crisp and dry.
Remove the crumb and the betel leaf from the oven. Crumble betel leaf into crumb and mix to combine. Set aside until needed.
For the Sugar Betel Leaf, place egg whites and sugar into a bowl and whisk until light and fluffy. Place betel leaves into egg white mixture, allow excess egg white to drain off the leaves and place onto a baking tray lined with baking paper. Bake for 15 minutes or until golden brown. Remove from oven and allow to cool.
To serve, sprinkle crumb into centre of the serving plates. Unmould semifreddo and place one dome onto the crumb on each plate. Unmould the frozen Lime Curd and place 3 domes on to each plate. Add one sugar betel leaf to each plate. Drizzle over a little caramel sauce and garnish each plate with three reserved fried crickets.