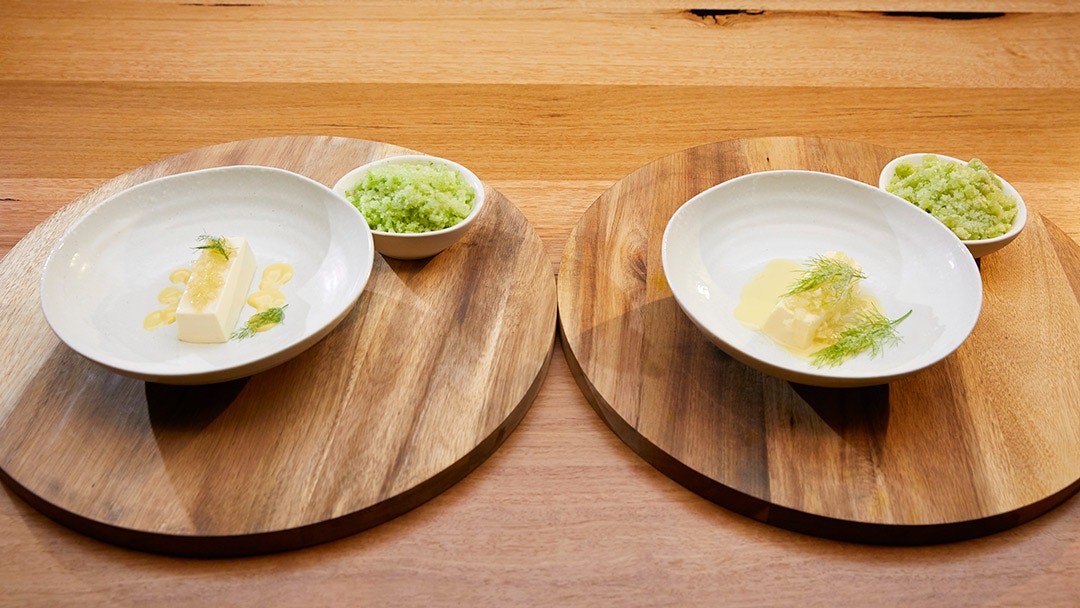 Steps
For the Crème Fraiche Mousse, place gelatine into a small bowl and cover with cold water to soften. Drain and squeeze out excess water. Set aside.
Make a pate bombe - place egg yolks into the bowl of an electric mixer and whisk until pale and thick in colour. Place the sugar and water in a saucepan over medium heat and stir to dissolve sugar. Brush the inside of the saucepan with a wet pastry brush to remove any sugar crystals. Once sugar syrup has reached 118C, remove from the heat and slowly pour into the bowl of egg yolks while whisking continuously. Mix until thick, pale and cooled, about 4-5 minutes.
Place 100g cream into a bowl, whisk to soft peaks and set aside. Gently warm remaining 50g cream then remove from the heat. Add the softened gelatine to the warm cream and stir to dissolve. Fold into the pate bomb and fold through whipped cream, crème fraiche and lemon zest. Spoon into eight 10cm x 4cm rectangular moulds. Level the surface and place into the freezer until solid.
Unmould onto cold serving plates and set aside in the fridge.
For the Fennel Granita, place sugar and water in a small saucepan and stir over medium heat until sugar dissolves. Remove from the heat. Pour 90g of the sugar syrup into a bowl and set remainder aside in a small saucepan.
Add remaining ingredients to the bowl of sugar syrup and stir to combine. Pour into a shallow dish and place into the freezer.
Every 30 minutes, scrape the surface and mix with a fork to form large crystals. Keep in freezer until serving.
For the Yuzu Curd, combine egg, yuzu and sugar in a bowl and whisk together until well combined. Add the butter and place over a saucepan of simmering water. Stir with a silicone spatula until thick and creamy. Remove from the heat and pass through a fine sieve into a bowl. Set aside to cool slightly then cover the surface with cling film and allow to chill in the fridge.
For the Fennel Fronds, brush each frond lightly with egg white and dust in the sugar. Set aside to dry.
For the Candied Fennel, place ingredients into a non-stick frypan and cook together until fennel is soft and translucent, about 10 minutes. Set aside to cool.
To serve, remove plates of mousse from the fridge. Pipe 6 dots of Yuzu Curd around the mousse and top with some fennel fronds. Spoon Candied Fennel onto the mousse and Fennel Granita onto each plate. Serve immediately.