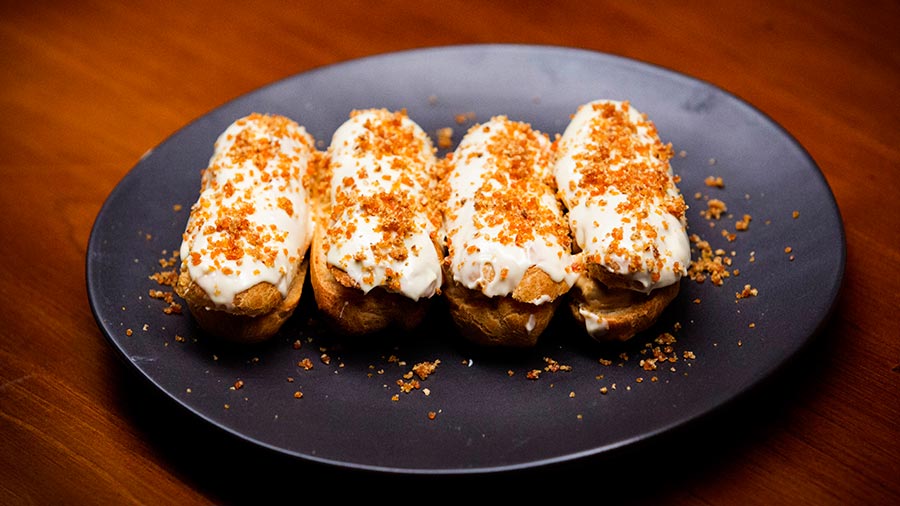 Steps
Preheat oven to 210C.
For the Eclairs, line a baking tray with baking paper and set aside. Make a choux pastry by placing milk, butter and ½ cup water into a saucepan over medium heat until butter is completely melted. Add flour and mix vigorously with a wooden spoon until mixture forms a ball and pulls away from the sides of the saucepan.
Transfer dough to a stand mixer fitted with a paddle attachment. Beat until the dough has cooled to room temperature and is no longer steaming. Add eggs, one at a time, beating well after each addition, until mixture is smooth and glossy. Scrape sides of bowl occasionally if needed
Transfer dough to a piping bag fitted with a wide tip and pipe onto the paper lined baking tray in 10 cm lengths. Use fingers to flick a little water over the choux to help create steam in the oven. Place the tray into the oven and bake for 10 minutes. Remove from oven and pierce the sides of the eclairs with the tip of a sharp knife. Reduce oven to 190C and bake until golden brown and cooked through, about 15 minutes.
Remove from the oven and transfer eclairs to a cooling rack set over a baking tray and set aside to cool. Once cooled, use a serrated knife to cut eclairs in half lengthways. Turn top halves, cut side down, onto the cooling rack and set aside.
For the Cream Cheese Filling, combine dulce de leche and cream in a saucepan over a medium heat and bring to just under boiling point. Remove from heat and add white chocolate. Stir well until smooth.
Place cream cheese and icing sugar in a stand mixer fitted with a whisk attachment and whisk until light and fluffy. Reduce speed to low, add cooled dulce de leche mixture and whisk until combined. Transfer to a piping bag and set aside in the fridge.
For the Pecan Praline, line a baking tray with baking paper. Spread pecans over the lined tray and roast in the oven until slightly golden, about 3-5 minutes. Remove from oven and set aside to cool.
Meanwhile, melt sugar in a small frypan over low heat until amber in colour then pour immediately over roasted pecans and set aside to cool and completely set. Once set, break into chunks then transfer to a food processor and blitz to a fine crumb. Set aside.
For the White Chocolate Topping, place white chocolate into a bowl and set over a saucepan of simmering water. Stir until completely melted, then spread over the top halves of the reserved Eclairs. Tap the wire rack so that excess chocolate drips away.
To serve, pipe some Cream Cheese Filling onto the bottom halves of the Eclairs. Top with the white chocolate coated top halves and sprinkle with Pecan Praline.