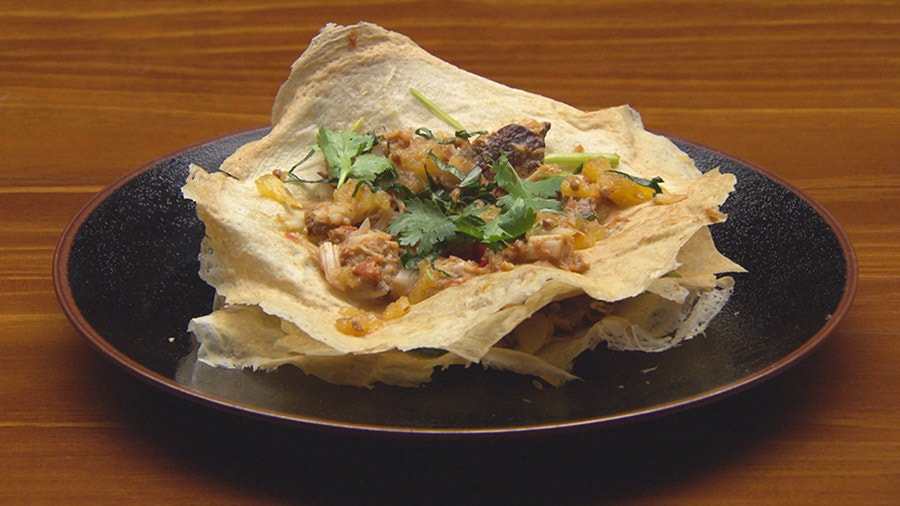 Ingredients
Pickled Coriander Stalks and Betel Leaves
Steps
Preheat oven to 180C.
For the Brik Pastry, sieve flour into a medium bowl with salt, rice bran oil and 230ml water. Whisk well to a smooth, thin batter.
Place a large pot of water over high heat and bring to the boil.
Sit a large non-stick frypan on top of the pot of boiling water to heat.
When the frypan is hot, use a pastry brush to paint a 14cm round thin layer of batter onto the base of the frypan, ensuring there are no holes. When the edges begin to lift up from the pan and the centre is set, gently lift the layer of pastry out and place onto a paper lined baking tray. Repeat the process with remaining batter until 8 sheets are made.
Paint the each pastry sheet with a thin coating of melted butter and place in the oven to bake until golden and crisp, about 6-8 minutes. Remove from the oven and set aside to cool.
For the Crab Curry, bring a large pot of water to the boil over high heat.
Add the mud crabs then bring back to the boil and continue to cook for 10 minutes. Remove the crab and plunge into an ice bath for 3 minutes to cool.
Remove crabs from the ice then break open shells, remove the meat and place into a bowl. Set aside in the fridge until needed.
To make curry paste, combine the remaining ingredients except for the rice bran oil and coconut cream in a mortar and pestle and crush to a paste.
Heat the rice bran oil in a medium frypan over medium heat. Add the curry paste and cook, stirring, until aromatic and golden, about 5-7 minutes. Add the coconut cream and reduce heat to low then simmer until reduced, about 2-3 minutes. Remove from the heat and allow to cool. Gently fold through the reserved crab meat and set aside.
For the Spiced Pineapple Chutney, place the coriander seeds in small saucepan and cook over a low heat until aromatic. Add the remaining ingredients and 1 cup of water and bring to the boil. Reduce heat to low and simmer until the pineapple is tender, about 15 minutes. Add slightly more water if needed. Remove from the heat and set aside.
For the Pickled Coriander Stalks and Betel Leaves, place vinegar, 85ml water, palm sugar and salt in a small saucepan over medium heat and bring to the boil. Remove from the heat and add coriander stalks and betel leaves.
To serve, place a piece of Brik Pastry onto the serving plate. Top with some of the Crab Curry, Spiced Pineapple Chutney and Pickled Coriander Stalks and Betel Leaves. Top with another round of Brik Pastry Garnish with fresh coriander leaves and serve immediately.