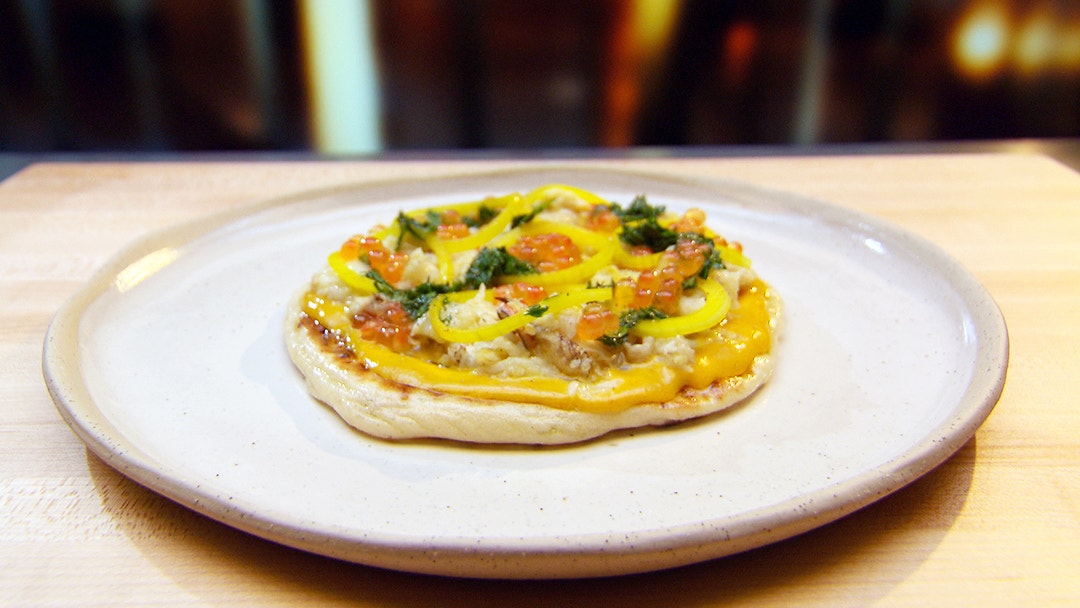 Steps
For the Poaching Stock, combine all ingredients in a large saucepan and bring to the boil then simmer over medium heat for 5 minutes.
Meanwhile, for the Poached Crab, lift the carapace from the crab body. Discard the dead man's fingers and any grit or gunk.
Carefully place crabs in the poaching stock and poach for 4½ minutes.
Remove crab from the poaching liquid and transfer to a bowl of iced water until cool. Remove crab from the water. Pick crab meat from the shell and claws and place in a small bowl, discarding the shell.
Season the crab with lemon zest, salt and pepper. Set aside.
For the Yoghurt Flatbread, in the bowl of a stand mixer, combine warm water, yoghurt, sugar and yeast and set aside for 10-15 minutes or until bubbles form on the surface.
Add the flour and salt and mix on low speed until dough comes together. Knead for 10 minutes or until smooth.
Loosely cover the bowl of dough with a tea towel and set aside in a warm place until doubled in size.
Portion the dough into 60g portions, approximately golf ball size. Roll each portion into a ball then use a small rolling pin to roll into a 1cm thick disk.
Place a wire rack over a barbeque/hibachi of hot coals. In batches, place the flatbread on the wire rack and cook for 30 seconds – 1 minute each side or until lightly charred and cooked through. As bread starts to puff, weigh down with a small oven tray to press flat.
Transfer flatbread to an oven tray and brush both sides with extra virgin olive oil. Season with salt and pepper and set aside.
Meanwhile, for the Pickled Onions, combine the vinegar, sugar, salt, mustard seeds, coriander seeds and turmeric in a small saucepan and bring to the boil.
In a small bowl, combine the sliced onions and the pickling liquid, ensuring the onion is submerged. Set aside for at least 30 minutes or until cool.
For the Hot Sauce, combine mayonnaise and sriracha in a small bowl and stir to combine. Season with salt.
For the Herb Salsa, combine all ingredients in a small bowl and mix well.
To serve, spread approximately 1 tablespoon of Hot Sauce over each flatbread. Top the flatbread with Poached Crab Meat, Pickled Onions, Herb Salsa and caviar.