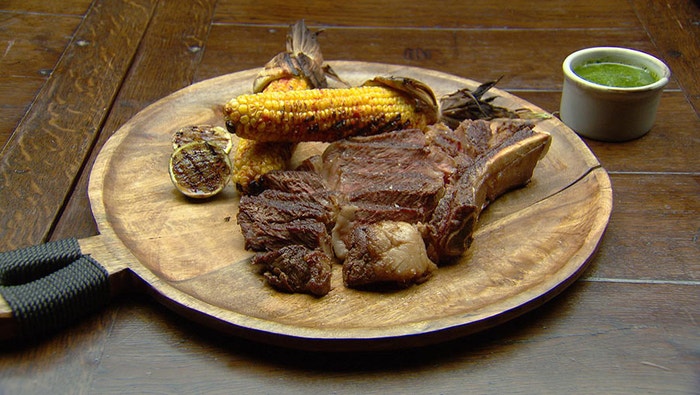 Steps
Preheat oven to 180C.
For the Salsa Verde, place all ingredients, except salt and pepper, into a food processor and process until blended but not pureed. Season to taste and set aside until serving
For the Charred Corn, heat a griddle pan over medium heat. Peel the husks from the cobs, keeping them attached, and tie the husks at the base with butchers string to create a handle. Remove any stringy fibres.
Place corn on hot griddle pan and cook, turning the corn, until well charred on all sides, about 10-15 minutes. Place butter in the pan and brush all sides of the corn with the melted butter. Remove the corn from the pan and sprinkle with paprika.
Place lime cheeks on the hot griddle pan, cut side down and cook until charred and softened slightly. Remove lime from pan and, using 2 of the cheeks, squeeze a little juice over the corn. Set aside corn and remaining cheeks until serving.
For the Rib Eye, place grapeseed oil in a large ovenproof frypan and place over medium high heat.
Season steak with salt and place into hot pan. Cook until a golden crust forms, about 3 minutes on each side. Remove pan from heat, add butter and place in oven for about 15 minutes, for medium rare or until cooked to your liking. Remove from oven and transfer steak to a warm plate to rest for 10 minutes.
To serve, remove bone from steak and slice. Place sliced Rib Eye Steak onto a large wooden board along with Charred Corn and charred lime cheeks. Place Salsa Verde in a dish and serve on the side.