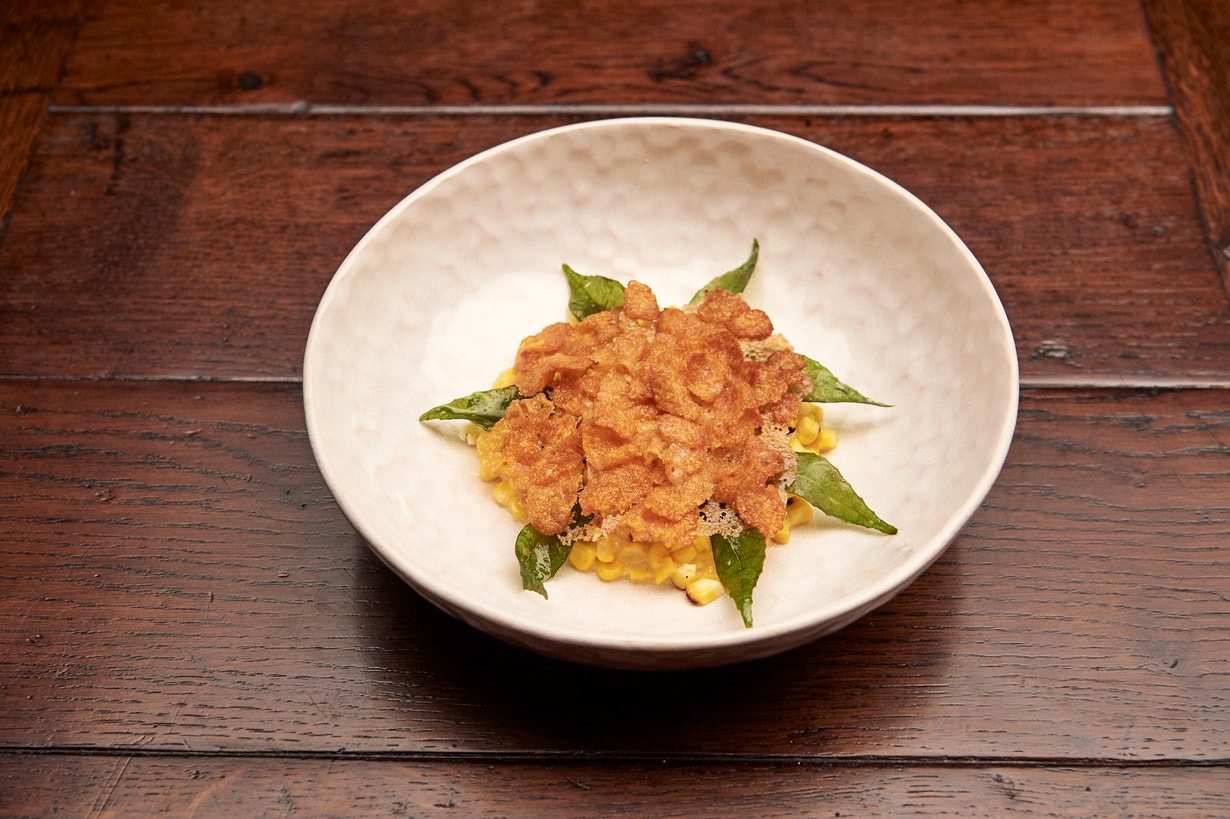 Steps
Preheat oven to 160C.
For the Corn Custard, place ingredients into a loaf tin and mix together. Place into a deep medium roasting dish and pour hot water into the roasting dish, until it reaches the height of the custard mixture.
Cook in the oven until just set, about 40-45 minutes. Remove from the oven, remove the custard from the water and set aside.
Increase the oven to 180C.
For the Corn Risotto, prepare a sugar syrup. Place sugar and 60ml water into a small saucepan and place over medium heat. Stir until sugar has dissolved then removed from the heat.
Place corn kernels, cream, curry leaves and 100ml sugar syrup into a small saucepan and simmer gently, stirring occasionally, until corn is tender and liquid has reduced, about 15 minutes. Remove from the heat.
Discard the curry leaves, stir in the butter and season with salt to taste. Set aside at room temperature.
For the Cornflake Crisp, line a small baking tray with baking paper and set aside.
Place the butter and sugar into a small saucepan over medium heat. Stir until melted then remove from the heat. Add the cornflakes and stir though.
Using a round cutter as a template, press mixture inside the cutters to create 4 rounds on the tray. Bake in the oven until set, about 10 minutes. Remove from oven, sprinkle lightly with salt and set aside.
For the Fried Curry Leaves, heat the oil in a small saucepan to 180C.
Add the curry leaves and cook for 30 seconds. Remove from the oil and place onto paper towel.
To serve, spoon the Sweet Corn Risotto into the centre of each serving bowl. Top with some Corn Custard, Fried Curry Leaves and a Cornflake Crisp.