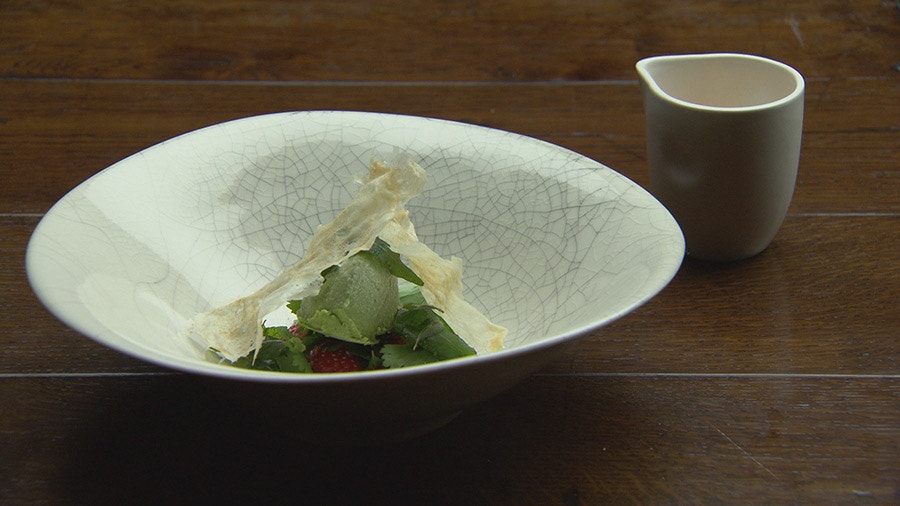 Steps
Pre chill the churner and preheat the oven to 180C.
For the Coriander Ice Cream, heat the milk and cream in a small saucepan until just simmering. Remove from heat. Meanwhile, whisk eggs and sugar until light and pale. While whisking continuously, add hot milk mix to the eggs and whisk until well combined. Return mixture to saucepan and place over low heat. Cook, stirring, until the mixture reaches 82C, thickens and coats the back of a spoon. Remove from heat and cool mixture in a bowl set over an ice bath.
Wash and thoroughly dry coriander leaves then place into a blender and process until smooth. Add to cooled ice cream mixture and stir through. Strain and place into ice cream machine and churn according to manufacturer's instructions. Place ice cream into freezer.
For the Crispy Curry Leaves, heat oil in a medium frypan to 180C and carefully drop in the curry leaves frying for 30 seconds or until crispy. Remove from heat and drain on paper towel and season. Set aside.
For the Mascerated Strawberries, slice the strawberries into 4 and cover with the lime juice. Set aside until ready to serve.
For the Spiced Brick Pastry, combine the flour and 250ml water in a medium bowl and whisk until smooth. Set a crepe pan over a pot of boiling water. Once the pan is hot, use a pastry brush to paint batter in thin layer onto the pan into a 4cm x 22cm length. When the batter has set and the edges start to lift from the pan, remove and place onto a lined baking trays. Repeat with remaining mixture to obtain another 7 lengths then place trays into oven and cook for 7 minutes or until golden brown. Remove from oven, sprinkle pastry with combined spices and sugar and set aside.
For the Fragrant Syrup, combine sugar and 300ml water in a small saucepan and bring to a boil over a medium heat, stirring until the sugar dissolves. Add in remaining ingredients and simmer until reduced to a thin syrup consistency. Strain into a serving jug.
To serve, place drained Mascerated Strawberries into bases of each serving bowl. Top with half of the Crispy Curry Leaves and fresh coriander leaves. Top with the quenelle of Coriander Ice Cream and remaining curry leaves. Cover with a piece Spiced Brick Pastry and serve with Fragrant Syrup on the side.