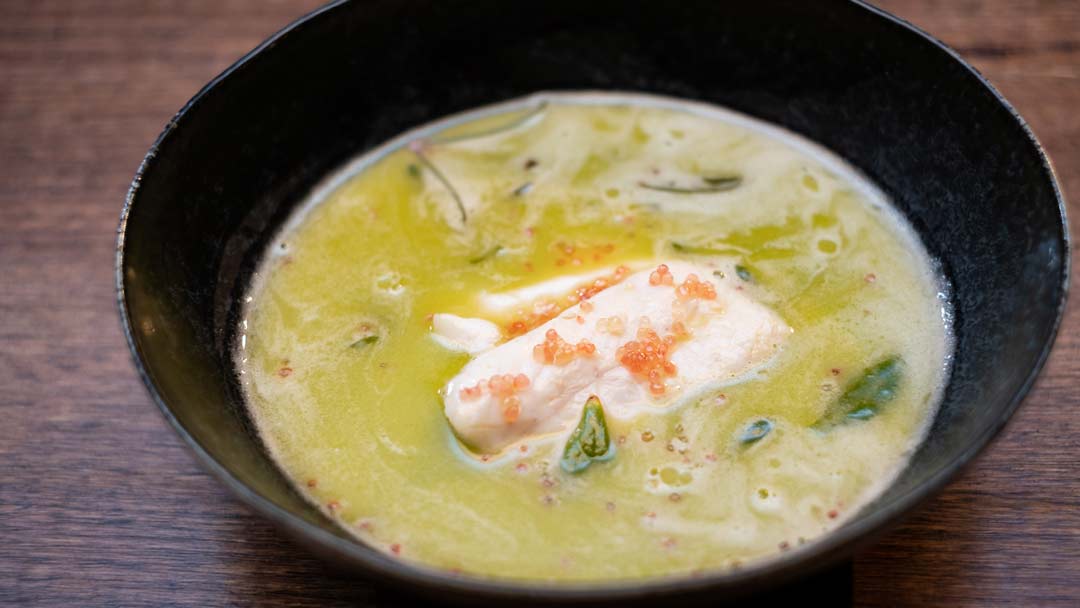 Steps
For the Eucalyptus Oil, combine all ingredients in a blender and blend on high speed for five minutes. Pass oil through a superbag or muslin cloth into a bowl, discarding the solids. Place the bowl over a larger bowl of iced water to cool.
For the Eucalyptus Beurre Blanc, use a cleaver to chop the wings, necks and marrow bone into approximately 5cm pieces.
In a large frying pan, warm the grapeseed oil over high heat. Add the bones, turning to cook on all sides until golden brown.
Transfer bones to a pressure cooker. Add the shallots, eucalyptus leaves and water, close the lid and cook on high pressure for fifteen minutes.
Release pressure from the pressure cooker, pass liquid through a superbag or muslin cloth into a medium saucepan, discarding the solids.
Place saucepan over high heat boil until reduced by half.
Whilst still over high heat, add vinegars and cream to the saucepan of reduced liquid and stir through. Use a stick blender or whisk to gradually add butter and Eucalyptus Oil and emulsify through. Season with salt. Reduce saucepan to medium to bring the beurre blanc to just below a simmer.
For the Coral Trout, slice down the middle of each fillet to separate the top loin from the loin and belly. Discard the belly side and remove all bones from the top loin. Cut each top loin into two portions and trim the sides to make rounded portions.
To serve, place trout portions into the simmering Beurre Blanc and poach for 3 minutes or until just cooked. Place one piece of trout in each serving dish.
Add the Native Greens to the Beurre Blanc and poach for 10-20 seconds or until just beginning to wilt.
Spoon the Beurre Blanc and Native Greens over the trout. Scatter finger lime pearls over.