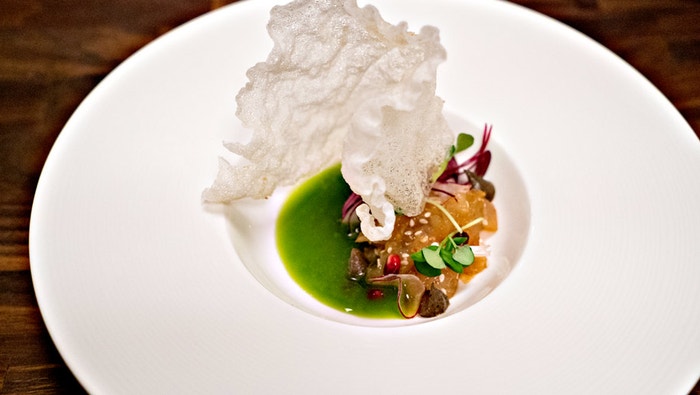 Steps
Turn pressure cooker on to high.
For the Burnt Lemon, place whole lemons over an open flame and char until lemons are blackened on all sides. Transfer to pressure cooker, seal lid and cook under high pressure for 15 minutes. Release pressure and transfer lemons to a food processor with ½ a cup of water, agave nectar and salt. Process until smooth then pass through a fine sieve and transfer to a piping bag. Set aside.
For the Smoked Broth, juice fennel, cucumber and coriander. Strain juice through a fine sieve into a wide bowl and cover with cling film. Insert the hose of smoking gun, light the smoking chips and allow sealed bowl of juice to fill with smoke. Remove smoking gun hose and reseal tightly. Set bowl aside to smoke for 20 minutes. Uncover and season smoked broth with vinegar and salt. Set aside.
For the Marinade, place all ingredients into a bowl and mix well to combine. Set aside.
For the Lobster Crudo, place a large saucepan of water over high heat and bring to the boil. Prepare a bowl of iced water and set aside. Add lobster to boiling water and blanch for 2 minutes, then remove and place straight into the ice bath to refresh. Remove the lobster tail meat from the shell, dice meat and place into a bowl. Add reserved Marinade and toss gently to coat lobster meat. Cover and set aside in the fridge.
For the Lemon Crème, combine all ingredients in a small bowl and whisk to combine. Transfer to a piping bag and set aside in the fridge.
For the Crisps, heat oil in a large saucepan to 190C.
Meanwhile, combine bee pollen, salt, chipotle chilli and sugar in a mortar and pestle and grind to a fine powder.
Deep fry the rice paper sheets until puffy and crisp. Remove from oil and place onto paper towel to drain. Sprinkle with prepared seasoning and set aside.
To serve, spoon some Smoked Broth into each bowl. Place some enokis on one side of the broth, then top with a portion of Lobster Crudo. Pipe some Lemon Crème and Burnt Lemon around the Lobster Crudo and. Garnish with some pomegranate seeds, radish slices and micro herbs. Finish with a Crisp and serve.