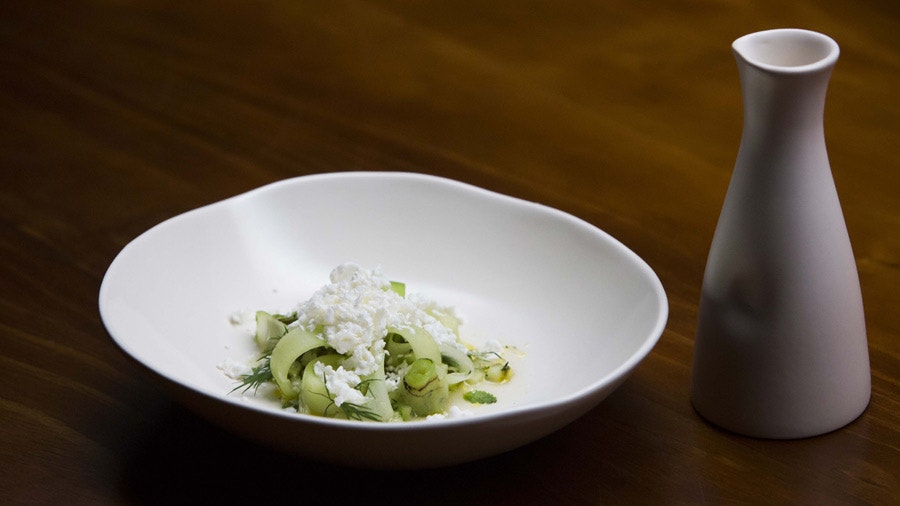 Steps
For the Cucumber and Apple Broth, juice cucumbers and apple and mix to combine. Reserve ¼ of the cucumber apple juice in a bowl and place remaining ¾ of the juice into a medium sized saucepan. Add verjuice, white wine vinegar and a pinch of salt and simmer over low heat until slightly reduced and bright green. Remove from heat, add olive oil and blitz with a stick blender until combined then pass through a fine sieve. Add reserved ¼ of fresh cucumber apple juice and stir gently to combine. Season with salt and pepper and set aside.
For the Apple and Cucumber Salad, combine diced apple and cucumber in a bowl with olive oil, white wine vinegar and chopped dill. Toss to coat and set aside.
Heat a griddle pan over high heat and add chillies. Char chillies on all sides then remove from pan and refresh in a bowl of iced water. Remove chilli skins and discard. Finely dice chilli flesh and add to the bowl of apple and cucumber, toss to coat and season with salt and pepper. Set aside in the fridge.
For the Charred Cucumber Roses, peel and halve cucumber, lengthways, then scoop out the seeds using a small spoon and discard. Peel long thin strips of the cucumber using a vegetable peeler. Heat an element on the stove and using tongs, hold slices of cucumber, one at a time, over the flame to lightly char. Remove from flame and roll into roses. Set aside.
For the Gin Infused Cucumber, use a 2cm disc cutter to cut out the seed section of the cucumber slices into discs, reserve seed discs and outer ring of cucumber flesh. Place both cucumber seed discs and rings of cucumber flesh into a bowl and add gin. Set aside to infuse.
For the Yoghurt and Lime Snow, place all ingredients into a bowl and whisk to combine. Transfer to an isi gun and charge twice. Syphon into a small deep baking tray. Place into the freezer until frozen.
To serve, arrange some ribbons of fresh cucumber on the plate. Add some Charred Cucumber Roses in between the ribbons of fresh cucumber. Spoon some Apple and Cucumber Salad throughout the cucumber ribbons. Add some pieces of Gin Infused Cucumber seed discs and rings throughout. Garnish with a scatter of dill sprigs and mint leaves throughout. Remove Yoghurt and Lime Snow from the freezer and use a fork to break up into flakes then pile on top of the other elements. Serve Cucumber and Apple Broth on the side.