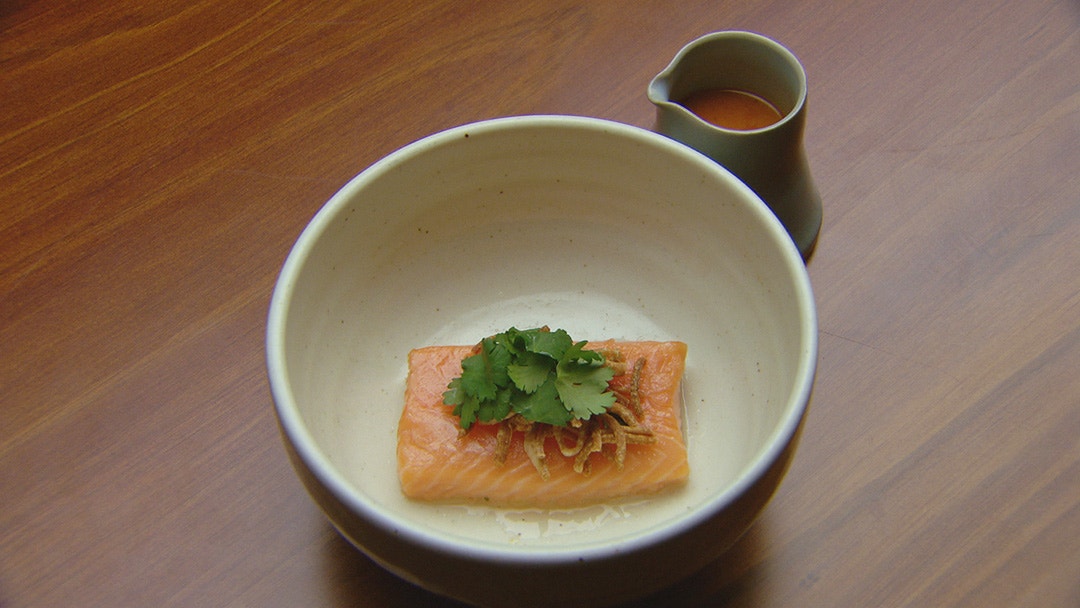 Steps
For the Confit Salmon, trim the salmon into four 120g rectangular portions and set aside on a plate in the fridge. Dice the trimmings and set aside.
For the Crispy Noodles, place flour, egg yolk and a little salt into a bowl. Add approximately 60ml water and mix to form a soft dough. Cover the bowl with a clean tea towel and set the dough aside for 20 minutes.
Place the oil into a medium saucepan and heat to 180C.
Pass the dough through a pasta machine until smooth then continue to roll through until halfway through settings.
Pass the dough through the spaghetti attachment and set aside.
Fry the noodles in the hot oil, in batches, until golden and crispy, about 5 minutes.
Remove noodles from the oil and place onto paper towel. Season with salt and pepper and set aside.
For the Thai Style Broth, place 1½ litres water into a medium saucepan with half of the coriander stems and bring to a simmer.
Place a large saucepan over medium high heat. Add the olive oil and salmon trimmings and cook, stirring, until golden.
Reduce the heat to medium. Add the tomatoes, peppercorns and remaining coriander roots and stems to the pan and fry for 5 minutes. Deglaze the pan with ½ cup water.
Remove the coriander stems from the simmering water then add the water to the saucepan containing the salmon and tomato mixture. Simmer on low until the liquid reduces to 1 litre. Season with vinegar, to taste.
Add a handful coriander leaves then strain through a muslin lined sieve into a medium saucepan. Season with salt, cracked pepper and vinegar, to taste. Remove from the heat, cover with a lid and set aside. Return to the boil to serve.
Meanwhile, for the Confit Salmon, place the olive oil in a medium saucepan over low heat and heat to 45C.
Add the salmon, ensuring it is covered with olive oil, and allow salmon to cook for 20 minutes. Move the saucepan on and off the heat to maintain the oil temperature at 45C.
Remove the salmon and place onto a wire rack to allow excess oil to drain. Season with salt.
To serve, place the Confit Salmon into the serving bowls. Scatter with Crispy Noodles and remaining coriander leaves. Spoon the hot Thai Style Broth into the bowls and serve immediately.