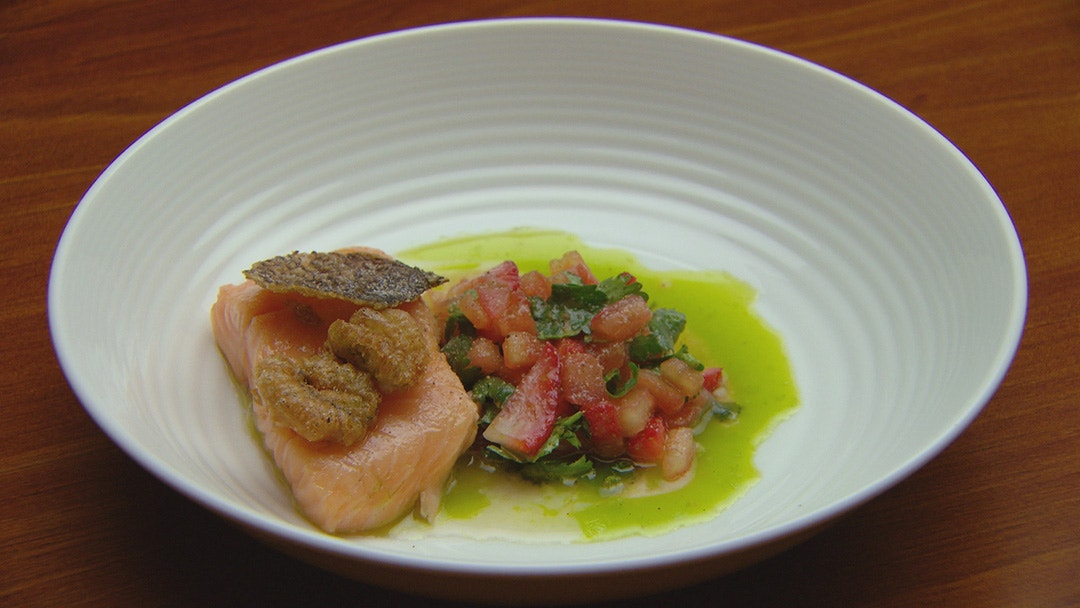 Ingredients
Tomato and Coriander Salsa
Crispy and Tempura Salmon Skin
Steps
Preheat oven to 200C. Prepare an ice bath in a small bowl.
For the Coriander Oil, bring a small saucepan of salted water to the boil in a small saucepan.
Blanch coriander for 10-20 seconds in boiling water. Remove from the water and transfer to the ice bath. Remove from the water and squeeze with paper towel to remove as much water as possible. Place the leaves into a food processor with oil and seasonings. Process until smooth. Strain the mixture through a lined sieve into a clean bowl and set aside.
For the Tomato and Coriander Salsa, bring a small saucepan of water to a simmer.
Dice 8 strawberries and place into a small saucepan with the tonic water and vinegar. Place over low heat and bring to a simmer. Add salt, pepper and onion powder to taste. Dice 1 tomato and add to the saucepan. Simmer for 3 minutes, remove from the heat and allow to infuse for 30 minutes. Strain through a fine sieve and set the vinaigrette aside.
Blanch the remaining 2 tomatoes in the simmering water for 15 seconds. Remove from the water and place into a bowl of cold water. Discard the skin. Cut into quarters, remove the seeds and dice the flesh. Pick the leaves from the coriander and mix with tomato. Dice the remaining strawberries and stir through. Dress with vinaigrette and balance the seasoning with sugar and salt. Set aside.
For the Confit Salmon, place the oil into a large saucepan over low heat and heat to 55C. Add the coriander roots, peppercorns and salt. Add the salmon and cook for 15-20 minutes or until internal temperature of the salmon reaches 45C. Move the saucepan on and off the heat to maintain the temperature at 55C. Remove the salmon and place onto paper towel and set aside.
For the Crispy and Tempura Fish Skin, dry 2 pieces fish skin with paper towel. Season with salt and place between 2 sheets of baking paper and between 2 oven trays. Bake in oven until the skin is crisp, about 15-20 minutes. Remove from the oven and set aside.
Meanwhile, place oil in a deep medium saucepan and heat to 220C. Deep fry the skin until the crispy and puffy, about 30 seconds. Remove from the oil and drain on paper towel. Set aside.
Reduce the oil temperature to 180C.
Dry the remaining 2 pieces fish skin and set aside. Place the flour, tonic water and salt into a bowl and whisk to a smooth, thick batter. Cut the fish skin into long strips, about ½ cm wide. Dip the strips of the skin into the batter then deep fry until golden and crisp. Remove from the oil and set aside on paper towel. Season with salt.
To serve, place Confit Salmon on one side of the plate and top with some Crispy and Tempura Salmon Skin. Add some Coriander and Tomato Salsa to the side. Spoon Coriander Oil around the salsa.