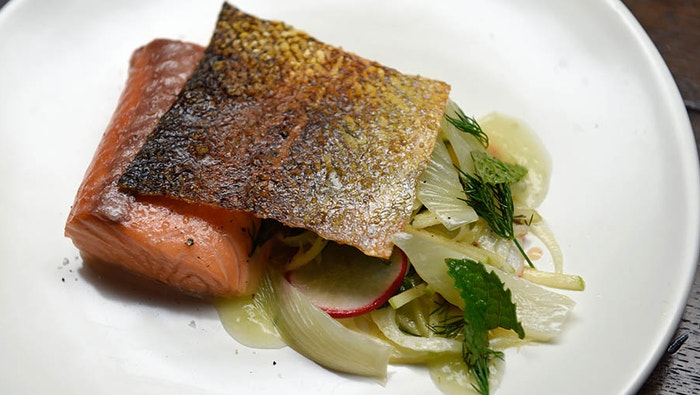 Steps
Heat oven to 180C.
For the Cucumber and Lime Gel, juice cucumber and place into small saucepan with remaining ingredients. Whisk thoroughly and bring to a boil then place in a small shallow baking tray. Place in fridge to set. Transfer gel to the canister of a stick blender then process until smooth. Transfer gel to a piping bag and set aside in the fridge.
For the Lime and White Balsamic Dressing, combine ingredients in a small bowl and whisk to combine. Set aside.
For the Pickled Dill, combine ingredients in a small bowl and stir to combine. Set aside in fridge.
To cook the salmon skin, place salmon skin onto paper lined baking tray. Sprinkle with salt and cover with baking paper. Top with another baking tray. Cook for 20 minutes or until crisp. Remove from tray and set aside.
Heat olive oil in a medium saucepan to 55C.
Place salmon portions into warm oil and cover surface of oil with piece of baking paper. Maintain temperature and cook for 10-12 minutes or longer for a firmer texture. Remove salmon from oil and season with salt and pepper.
Meanwhile, prepare the Apple and Radish salad by slicing apple, radish and fennel using a mandolin. Cut the sliced apple into fine matchsticks. Combine salad ingredients, Lime and White Balsamic dressing and Pickled Dill and mix gently to combine.
To serve, place piece of Confit Salmon on each plate. Divide Apple and Radish Salad between plates then top with a piece of crispy skin. Dot with Cucumber and Lime Gel.