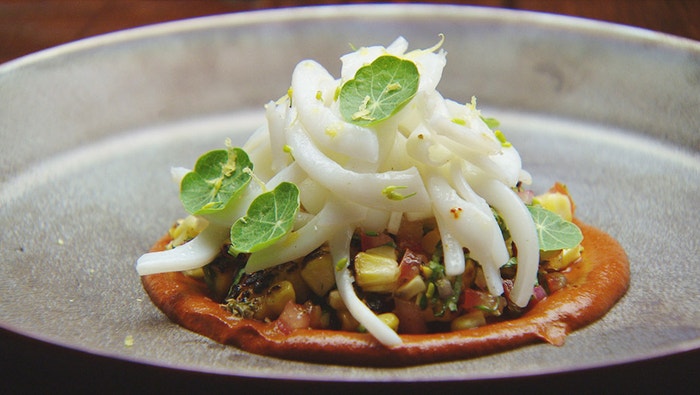 Steps
Preheat oven to 180C.
For the Confit Squid, place grapeseed and olive oil into a large saucepan over very low heat.
Break the garlic bulbs apart and add the cloves, with skin on, to the oil. Allow to infuse while preparing the remaining elements. Move the saucepan on and off the heat to maintain the oil temperature at 100C.
When ready to serve, pass the oil through a fine sieve into a medium saucepan and add a pinch of salt. Place over a low heat and ensure oil is at 100C.
Slice each squid open and lay flat on a chopping board. Finely shred the squid as thinly as possible then place into the oil until the squid just changes colour to white but are still a little opaque, about 1-2 minutes. Stir gently to ensure all of the squid cooks at the same time. Remove from the oil and place into a sieve to allow excess oil to drain away. Season with salt and toss through lemon zest.
For the Adobo, heat a griddle pan over medium heat. Add dried chillies and toast for 2-3 minutes. Transfer to a bowl and cover with hot water. Place a second bowl on top of the chillies to ensure they remain submerged. Set aside to soften for 30 minutes.
Heat a large frypan over medium heat. Add 2 tablespoons olive oil, red onion, coriander stems and roots, garlic and ginger and cook, until starting to soften. Add oregano, season with pepper and salt and stir, cook until caramelised, about 15 - 20 minutes.
Place a wire rack directly over a low flame. Place the tomato on top and allow the skin to char. Remove from the heat and set aside.
Remove the chillies from the water, reserving the soaking water.
Cut the chillies in half, remove and discard the seeds and transfer to a blender. Add 1 cup of the soaking water and process until chillies break down and form a paste. Add the caramelised onion mixture, charred tomato, vinegar, lemon juice and remaining 3 tablespoons olive oil and process until smooth. Season with salt, to taste. Add a little extra soaking water then xanthan gum and process briefly until the sauce is smooth, emulsified and satiny in appearance. Set aside.
For the Burnt Lemon Salsa, place the corn onto a wire rack over a low flame and cook, turning regularly, until charred and tender, about 10 minutes. Remove from the heat and remove the kernels. Place into a medium bowl with the remaining ingredients and toss until evenly combined. Season with salt to taste.
To serve, spoon Adobo into the centre of each plate and spread out slightly. Add a pile of Burnt Lemon Salsa and top with Confit Squid. Garnish with nasturtium leaves and fennel flowers.