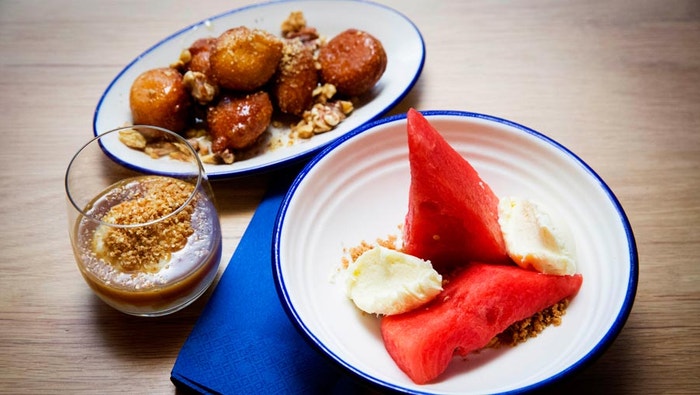 Steps
Preheat oven to 180C
Trim skin from watermelon and cut into 10 thick wedges. Place into a large cryovac bag or zip lock bag and add ouzo. Seal to remove air, without crushing watermelon, and set aside on a shallow baking tray, in fridge for 1 hour, turning bag over after 30 minutes.
For the mousse, place white chocolate into a medium, heat-proof bowl and place over a saucepan of simmering water. Melt chocolate over simmering water, stirring frequently until melted, then set aside to cool.
Meanwhile, whip cream to soft peaks. Once cooled, fold melted white chocolate into cream and gently mix to combine. Set aside in fridge until needed.
For the crumb, place 25g of the caster sugar and cinnamon into a small bowl and toss to combine. Spread the almonds onto a baking tray lined with baking paper and sprinkle with the cinnamon sugar. Toast for 10 minutes in the pre-heated oven, or until golden. Set aside to cool until needed.
Beat butter and remaining 50g caster sugar until light and fluffy. Add egg yolk and flour and beat until well combined. Spread the mixture onto a baking tray lined with baking paper and bake for 10-12 minutes until dry and golden. Set aside to cool.
When cool, break the biscuit into large chunks and transfer to a food processor. When the toasted almonds are cool, add to the food processor and pulse until a fine crumb. Set the crumb aside in a bowl until needed.
To serve, remove Compressed Watermelon from bag and place one piece onto each serving plates. Add a quenelle of White Chocolate Mousse to each plate, then top with a sprinkle of Almond and Cinnamon Crumb.