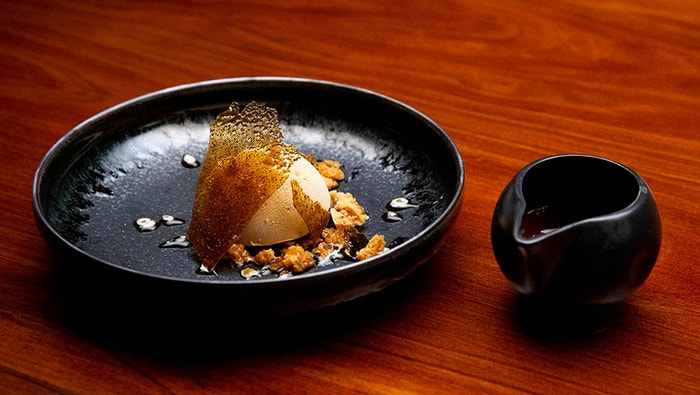 Steps
Preheat oven to 180C.
For the Coffee Parfait, bring a medium saucepan of water to the boil.
Place eggs, egg yolks and sugar into a metal bowl and whisk to combine. Place bowl over simmering water and using an electric whisk, whisk until mixture is thick, pale and doubled in volume, 8 - 10 minutes. Add coffee and whisk until coffee has dissolved. Remove bowl from heat and set aside to cool.
In a separate bowl, whisk cream to soft peaks then gently fold through the cooled coffee mixture until fully combined. Pour into eight 6cm dome moulds, level surface then place in freezer until set and ready to serve.
For the Coffee Granita, place sugar, coffee and 100ml water into a small saucepan. Set over medium heat and bring to a boil, whisking to dissolve sugar and coffee granules. Pour into a bowl and place over an ice bath to cool.
Transfer cool mixture to a medium sized, shallow baking tray and place in freezer until set. Scrape surface with a fork every 15 minutes until a granita and keep frozen until serving.
For the Butter Biscuit Crumb, place ingredients into a medium bowl and mix together with fingertips to a crumb. Spread evenly over a lined baking tray and place in oven to bake until golden brown, about 15 minutes, stirring halfway through cooking time. Remove from oven and set aside until serving.
For the Chocolate Sauce, place chocolate into a small bowl and set aside.
Bring 70g water to a boil then pour over chocolate and whisk until chocolate has melted. Mix in sugar and salt and set aside until serving.
For the Coffee Sugar Tuile, place sugar in a small frypan and melt over low heat to create a light coloured caramel. Add coffee beans then pour onto a silicone mat to cool.
Break into shards then place into a food processor and blitz into a fine powder. Dust powder through a fine sieve onto silicone mat then place in oven to bake until powder has melted, about 2-3 minutes. Remove from oven, allow to cool then break into shards. Set aside until serving.
To serve, place some Butter Biscuit Crumb onto each serving plate. Remove Coffee Parfait from freezer, unmould and place on top of crumb. Add shards of Coffee Sugar Tuille, some Coffee Granita and serve with Chocolate Sauce on the side.