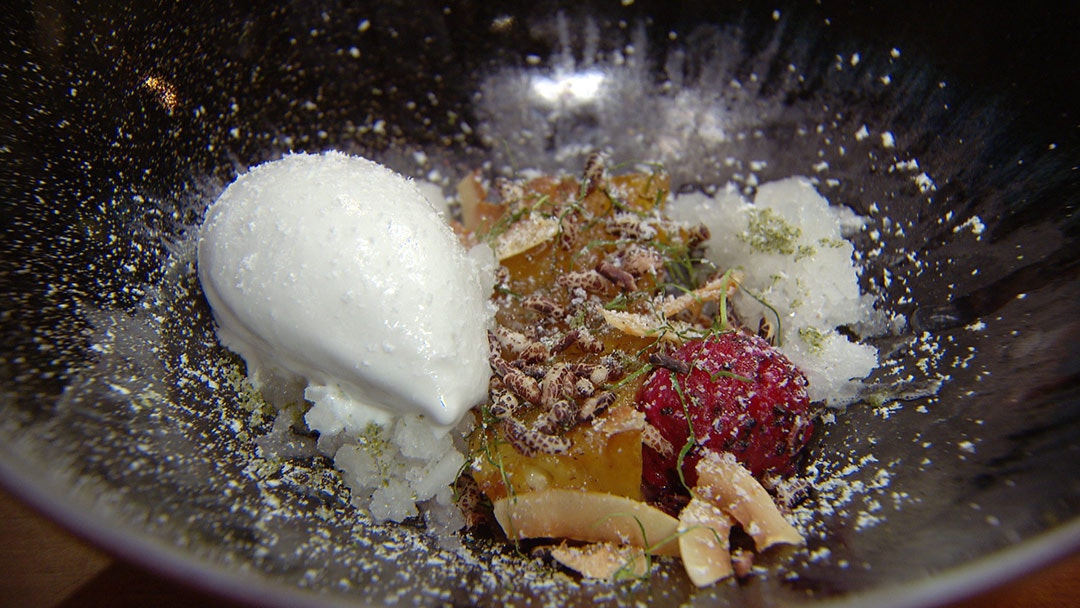 Steps
Pre chill ice cream machine. Preheat oven to 180C.
For the Coconut Ice Cream, remove the flesh from a fresh coconut and place into a high speed blender with 250ml water. Process to a puree and transfer to a measuring jug. Add enough canned coconut cream to make up to 400ml coconut cream.
Place into a saucepan with the remaining ingredients and place over a medium heat. Stir until ingredients are combined and glucose has melted. Remove from the heat and set aside to cool.
Pour into an ice cream machine and churn according to manufacturer's instructions. Transfer to the freezer until required.
For the Coconut Granita, place ingredients into a blender and process until combined and smooth. Strain through a fine sieve into a deep tray and place in the freezer until frozen and set. Use a fork to scrape the surface and return to the freezer until ready to serve.
For the Roasted Pineapple, place the rum, brown sugar and spices into a 20cm x 30cm baking dish. Add the pineapple and turn to coat with the rum mixture liberally.
Remove the pineapple and place onto a wire rack set over a shallow baking tray. Rub the extra brown sugar over the pineapple and place both trays into the oven.
Cook the pineapple for 30 minutes, basting the pineapple every 5 minutes with the rum mixture. Remove the pineapple and the basting mixture from the oven.
Place the pineapple, ½ cup of the basting mixture and any juices from cooking the pineapple into a large frying pan. Cook over low heat until the liquid starts to reduce and form a caramel. Add the extra rum and butter and swirl the pan. Turn the pineapple in the caramel until well coated and caramelised. Remove from the heat.
Using a blowtorch, blister the pineapple until caramelised and slightly charred. Set aside for serving.
For the Puffed Black Rice, place the oil into a medium saucepan and heat to 180C.
Add the rice and cook until puffed. Remove from the oil and place onto a paper towel to drain and cool. Toss the puffed rice through icing sugar. Set aside for serving.
For the Kaffir Lime Sherbet, place the lime leaves into a spice grinder and process to a fine powder. Pass through a fine sieve into a small bowl. Add the icing sugar and citric acid to the bowl of powdered lime, a little at a time, until an acidic and sour sherbet is formed. Set aside for serving.
To serve, place a piece of the Roasted Pineapple into the centre of four shallow serving bowls. Add a small piece of dragon fruit. Top with Puffed Black Rice, toasted coconut shavings, finely sliced kaffir lime leaf and grated dehydrated coconut, finely grated tonka bean and a sprinkling of Kaffir Lime Sherbet. Add some Coconut Granita, a scoop of Coconut Ice Cream and top with more puffed rice, toasted coconut and grated dehydrated coconut. Serve immediately.