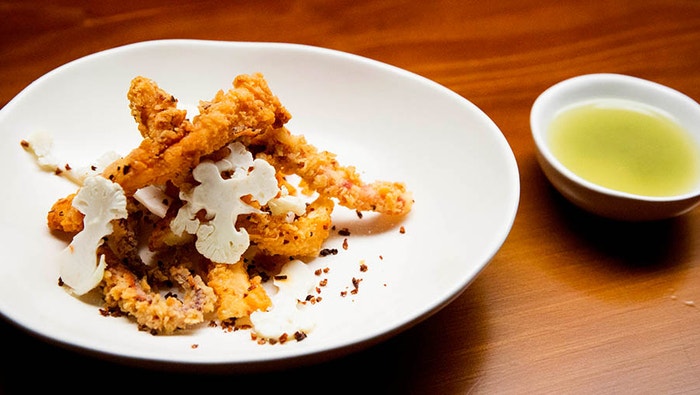 Steps
Preheat oven to 220C.
For the Lemon Myrtle Vinaigrette, combine oil and vinegar and mix well with a fork or small whisk to emulsify. Add lemon myrtle, season and set aside.
For the Pickled Cauliflower, combine oil, vinegar and salt and pepper in a medium bowl and whisk to combine. Using a mandolin, slice cauliflower thinly, add to pickling mixture and toss to coat. Set aside in fridge.
Heat oil to 200C.
For the Coconut Crumbed Squid, slice body of squid into 5mm rings and tentacles into 8cm pieces and set aside in fridge.
Scrape flesh from coconut and blitz in a food processor along with maple syrup until combined. Spread 1 tablespoon of maple coconut mix onto a paper lined baking tray and bake for 5 minutes, until golden. Set aside for garnish. Combine remaining maple coconut with ¼ cup of plain flour in a shallow bowl, season and set aside. Season remaining ¼ cup flour and place in a second bowl. Beat eggs with 2 tablespoons water in a third bowl.
Dip squid in flour, into eggs and then into coconut mixture and press firmly to coat.
Fry squid in hot oil, in batches, until golden and crisp. Drain on kitchen paper and season.
To serve, drain Pickled Cauliflower on kitchen paper and divide between serving plates. Add Coconut Crumbed Squid and sprinkle with reserved toasted coconut. Serve strained Lemon Myrtle Vinaigrette on the side.