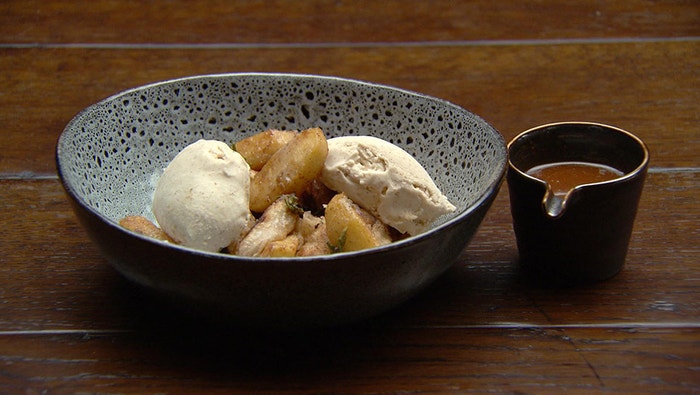 Steps
Prechill ice cream machine.
For the Cinnamon Ice Cream, place cream, milk, cinnamon quills and ground cinnamon in a small saucepan and place over medium heat until just below boiling.
In a separate bowl, whisk sugar and egg until pale and fluffy. Slowly add hot cream mixture while continuously whisking to combine.
Return mixture to the saucepan and place over low heat, stirring continuously with a spatula until thickened and mixture reaches 82C. Remove from heat and strain through a fine sieve into a clean bowl. Place over an ice bath and whisk to cool down. Once cool, transfer mixture to an ice cream machine and churn following the manufacturer's instructions. Set ice cream aside, in freezer, to set until serving.
For the Cinnamon Sugar, place sugar and ground cinnamon in a spice grinder and grind until well combined. Set aside one teaspoon for the Caramelised Apple and the remainder in a small bowl for the Roti.
For the Sweet Cinnamon Roti, place flour, sugar and salt in a bowl and mix well. Make a well in the centre and slowly pour in 1 cup warm water, stirring with a fork until just combined. Turn onto a work surface and knead for about 2 minutes.
Portion dough equally into 8 balls, brush each with oil and place into a lightly oiled bowl and cover with cling wrap. Leave to rest at room temp for at least 20 minutes.
Once rested, place one portion of dough between 2 sheets of baking paper and roll out as thin as possible with a rolling pin. Remove top layer of baking paper, brush dough with oil and sprinkle generously with cinnamon sugar.
Using fingertips, roll dough to make a log and then coil to make a snail shape. Place the sheet of baking paper back on top and roll out again to flatten, maintaining the coil shape. Repeat with remaining dough.
Place a large frypan on high heat and when pan is almost smoking, place a roti in the pan and cook on each side for 1-2 minutes until crisp and golden.
Remove roti from heat and once cool enough to handle, gently pat and tumble between hands to make roti flaky. Sprinkle with extra cinnamon sugar and set aside until serving. Repeat with remaining roti.
For the Cinnamon Caramel, place sugar and ¼ cup water in a saucepan and set over high heat. Bring to a boil, brushing sides with a wet pastry brush to prevent crystallisation. Continue to cook, swirling pan until sugar is a deep amber colour. Remove from heat, add butter and whisk to combine. Return to heat and boil for a further minute. Remove from heat, add cream and ground cinnamon and whisk until combined. Set aside at room temperature until serving.
For the Caramelised Apple, place a medium saucepan over medium heat. Add butter and once melted, add apple wedges. Once apples start to sizzle, add a sprig of rosemary. Leave to cook for a further 2 minutes. Sprinkle with brown sugar and Cinnamon Sugar and cook until apples are caramelised and golden on both sides. Remove from heat and set aside until serving. Reserve rosemary sprig for garnish.
To serve, place Sweet Cinnamon Rotis in the centre of each serving plate. Add Caramelised Apple and top with a spoonful of Cinnamon Ice Cream. Drizzle with Cinnamon Caramel and garnish with reserved rosemary leaves.