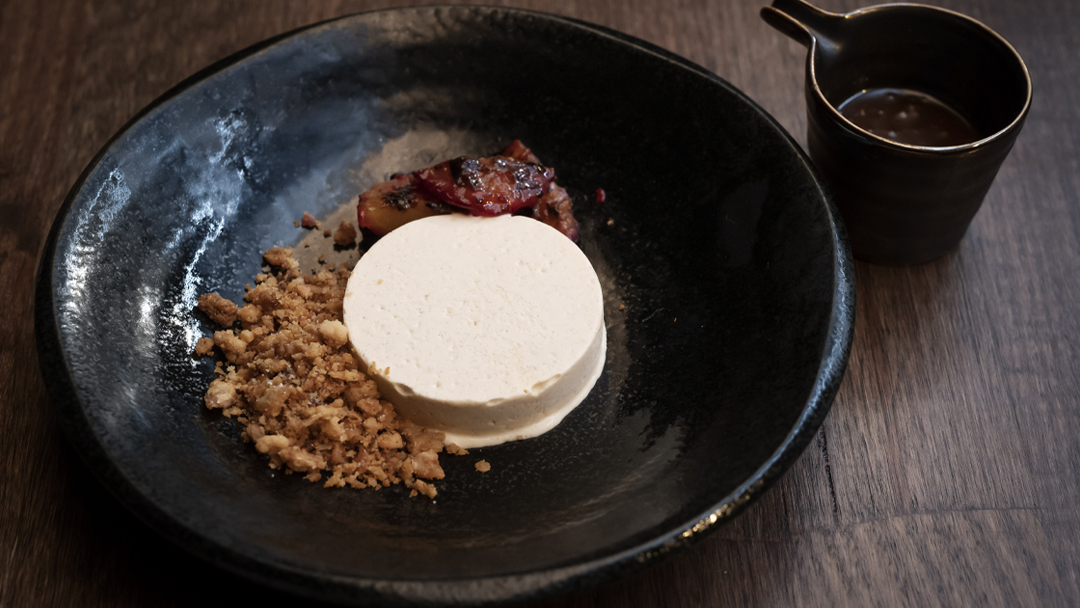 Steps
Preheat the oven to 180°C.
For the Cinnamon Parfait, bring a saucepan of water to a simmer.
Place yolks, sugar and sugar into a bowl and whisk over simmering water until pale and thick. Remove from the heat and set aside to cool. Whisk the cream to soft peaks, then into the yolk mixture and fold in gently until just combined. Pour into 4-7cm diameter x 2.5cm deep silicone disc moulds. Level the surface and set aside in the freezer until firm.
For the Crumb, place the chicken skin onto a small lined baking tray and rub with a little oil and a pinch of salt. Cover with another piece of baking paper and tray. Bake in the oven until golden, about 40 minutes. Set aside to cool, reserving rendered chicken fat.
In the meantime, place the butter, sugar and a pinch of salt into a bowl and beat until smooth. Add flour and mix together until just combined. Sprinkle crumb mix onto a lined baking tray and bake until golden and crisp, about 10 minutes. Remove from the oven and set aside to cool.
Finely chop the chicken skin and combine with the cooled crumb. Set aside.
For the Chicken Fat Caramel, chop the skin into small pieces and place into a small saucepan. Heat over a low to medium flame until the fat has rendered. Set aside 2 teaspoons fat for the plums.
Place the sugar, water and a pinch of salt into a small saucepan and place over a high heat. Allow to caramelise, swirling occasionally until dark golden, about 5 minutes. Remove from the heat and add in the cream, butter and 30-40ml rendered chicken fat (from the pan and baking tray) and stir until smooth.
For the Charred Plums, slice 2 cheeks off each plum either side of the stone. Brush the cut sides with a small amount of chicken fat and char on a hibachi or hot grill plate until blackened slightly, about 3 minutes. Remove from the heat and brush with a little extra chicken fat. Set aside.
To serve, place parfait onto serving plates. Add a spoonful of crumb and 3 of the plum halves. Serve the warm caramel in a jug on the side.