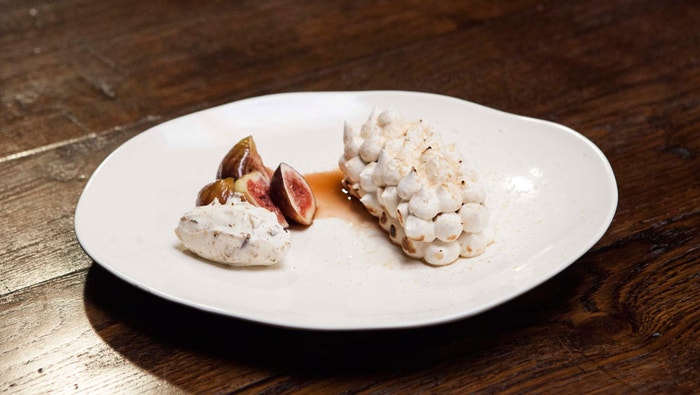 Steps
Preheat oven to 165C.
For the Cinnamon Cake, grease and line a 16cm x 26cm baking tray with baking paper. Place cinnamon stick in a bowl and cover with cling film. Insert the hose of the smoking gun and light the hickory chips. Allow bowl to fill with smoke then remove hose and seal tightly with clingfilm. Set aside for 10 minutes. Remove smoked cinnamon quill from the bowl and grate on a fine microplane into a bowl. Set aside.
Meanwhile place butter and sugar in a stand mixer fitted with a paddle attachment and cream until light and fluffy. Add eggs, one at a time, and beat well after each addition. Fold in flour and smoked cinnamon. Spread mixture into prepared baking tin and bake until golden, about 30 minutes. Remove from oven and turn out onto a wire rack. Set aside to cool.
Increase oven to 180C.
For the Maple Meringue, place a medium saucepan of water over medium heat and bring to a simmer. Place all ingredients into a glass bowl and sit over the saucepan of simmering water. Use electric beaters to beat the mixture until sugar has completely dissolved. Remove bowl from the heat and continue to beat until light and fluffy, about 5 minutes. Transfer to a piping bag fitted with a round tip and set aside.
For the Port and Maple Figs, place figs upright into a small loaf tin. Combine remaining ingredients and 100ml water in a small saucepan over medium heat and bring to the boil, stirring occasionally. Remove from heat and pour mixture over the figs to coat. Transfer tin to the oven and bake until figs are golden and soft, but still holding shape, about 13-15 minutes. Remove figs from tin, cut in half, and set aside. Pour the juices from the tin into a small saucepan and place over low heat to simmer until reduced to a syrup, about 5-7 minutes. Transfer syrup to a ramekin and set aside.
For the Burnt Fig and Almond Cream, heat a hibachi grill or griddle plate until very hot. Place figs onto hibachi grill or griddle until they begin to char, about 5-8 minutes. Remove from heat, dice finely and set aside in a bowl.
Toast almonds in a small frypan over medium heat until just starting to char. Finely dice and reserve half in a bowl for garnish. Add remaining almonds to the bowl of diced figs.
Place cream into a stand mixer fitted with a whisk attachment and whip to stiff peaks. Add to bowl with reserved charred figs and almonds and fold through to combine.
To serve, cut four 3cm x 10cm pieces of the Cinnamon Cake and place onto serving plates. Pipe kisses of the Maple Meringue onto the cake so that is completely covered in meringue. Use a microplane to grate some toasted almonds over the meringue. Arrange some of the Port and Maple Figs and fresh figs to the side of the cake and drizzle with some of the reserved Port and Maple Fig syrup. Heat Armagnac on the stove, pour over meringue and light with a blowtorch to toast the meringue. Finish with a quenelle of Burnt Fig and Almond Cream.