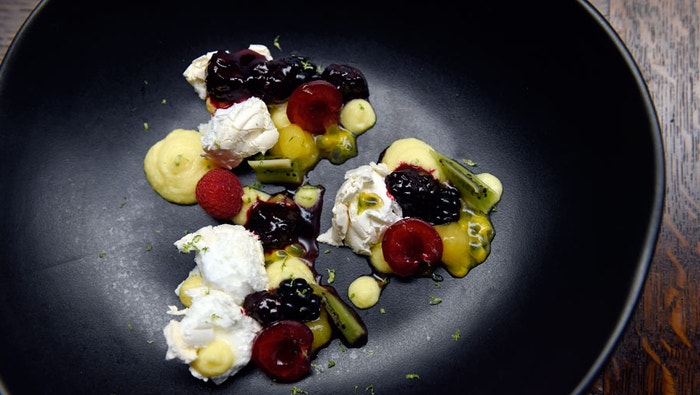 Steps
Preheat oven to 120C.
For the meringue, place 120g of the caster sugar in a small saucepan over medium heat and allow to dissolve, stirring occasionally, until temperature reaches 120C.
Meanwhile, place egg whites into the bowl of an electric mixer fitted with the whisk attachment and whisk til soft peaks form.
When the sugar has reached 120C, pour into egg whites in a slow, steady stream with the mixer running. Continue to whisk for 10 minutes on medium high speed until mixture is thick and glossy.
Line a baking tray with baking paper. Transfer meringue to a piping bag fitted with a 1cm round tip and pipe individual meringues, about 5cm wide, on to the tray. Bake until crisp on the outside, about 30 mintues. Remove from oven and set aside to cool until needed.
For the fruit compote, combine mixed berries, 100g of the caster sugar and 30ml water in a small saucepan and simmer on a medium heat until fruit has softened slightly and sugar has dissolved. Remove from heat and set aside until needed.
For the White Chocolate Passionfruit ganache, place white chocolate into a medium, heat-proof bowl and set over a saucepan of simmering water. Stir to melt the chocolate.
Remove the chocolate from the heat and allow to cool briefly. Meanwhile, place the cream in a medium sized bowl. Once the melted chocolate has cooled slightly, fold it in to the cream. Add passionfruit juice and lemon zest and stir to combine.
Allow the chocolate mixture to cool then whisk briefly until slightly thickened. Transfer to a piping bag and set aside until needed.
Heat the port in a saucepan over low heat. Once warm, add the cherries then remove saucepan from heat and set aside for 20 minutes to allow cherries to macerate.
Combine mango and remaining sugar in a small saucepan and cook for 5-6 minutes or until fruit has softened and sugar has dissolved. Remove from heat then puree with a stick blender until smooth. Set aside to cool until needed.
To serve, pipe several amounts of ganache onto serving plates. Break up the cooled meringue and place on top of the ganache and around the plate. Top the meringue with fruit compote and drained cherries. Dot mango puree around the dish.
Garnish with lime zest, kiwi fruit slivers, passionfruit and fresh berries.