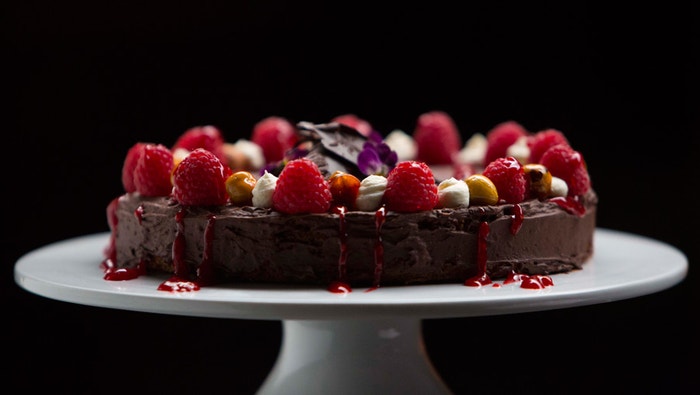 Steps
Preheat oven to 175C. Grease and line base and sides of a 20cm round cake tin. Line a large baking sheet with baking paper.
For the Chocolate Sponge, use an electric mixer fitted with whisk attachment to cream eggs and sugar until light and pale. Fold through flour and cocoa powder. Once combined, fold in the melted butter. Pour into prepared cake tin and bake for 15-20 minutes in the pre-heated oven until a skewer comes out clean when inserted into centre. Once cooked, remove from oven and cool in tin for 10 minutes. Then turn out onto a cooling rack to cool completely.
For the Whipped Ganache, place cream in a small saucepan over a medium heat and bring cream to just below boiling point.
Place chocolate in a medium bowl, pour warm cream over chocolate and stir well to combine. Allow the mixture to cool. When almost firm, transfer the mixture to the bowl of a stand mixer fitted with paddle attachment and whip until light and fluffy. With a pallet knife, spread the whipped ganache evenly over the top and sides of the cooled cake.
To make the Jam, place the raspberries and sugar in a medium saucepan cook down til fruit is soft. Add lemon juice and pectin and bring to a boil.
Once the jam mixture is boiling, turn down heat and simmer, stirring continuously, for 3 minutes or until mixture thickens. Once thick, remove from heat and set aside to cool until needed.
To make the Caramel Hazelnuts, place the sugar into a medium frypan over low heat and melt slowly until all sugar has dissolved and is caramel in colour. Set aside to cool slightly.
Using a skewer or pairing knife, skewer each hazelnut then dip into caramel. Hold the skewered hazelnuts above the caramel to drain excess and create a "tail". When the toffee is beginning to firm, place onto a prepared baking sheet and allow to cool and harden until needed.
For the Chocolate Shards, place 100g of the chocolate in a heat-proof bowl over a saucepan of simmering water and melt, stirring frequently until chocolate reaches 45C. Remove from heat and stir in remaining chocolate, a little at a time, stirring continuously until chocolate reaches temperature of 29C.
Return bowl to the heat and stir until chocolate reaches a temperature of 32C. When at temperature, immediately remove from heat. Place a sheet of acetate onto bench. Spread chocolate in a thin layer over acetate, smoothing with a palette knife and allow to set. Using a sharp knife, scrape chocolate on an angle to create shard curls. Set curls aside in an airtight container until required for garnish.
To serve, place cake in the centre of a serving plate. Place caramel hazelnuts around edge of cake. Place 2 fresh raspberries between each hazelnut then pipe cream in remaining gaps around edge of cake. Drizzle with raspberry jam. Garnish with chocolate shards and edible flowers.