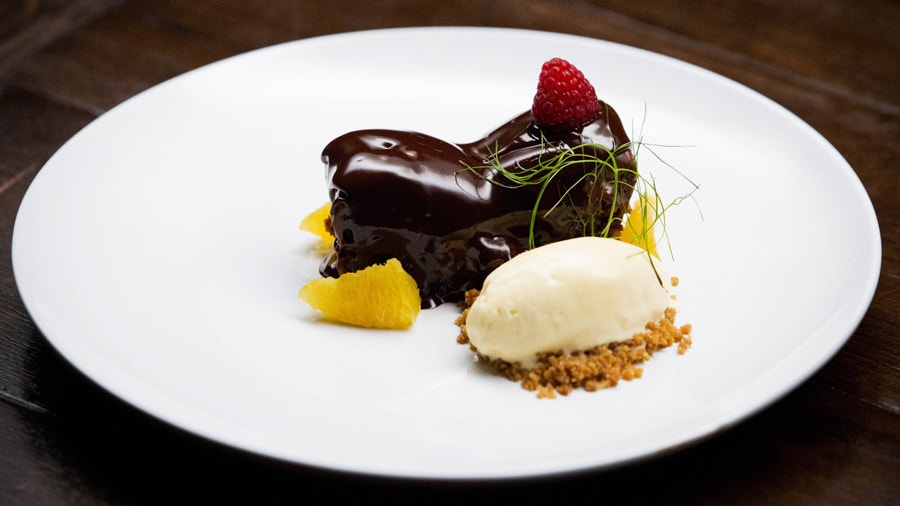 Steps
Preheat oven to 150C. Pre-chill ice cream machine to manufacturer's instructions. Prepare a large bowl of iced water.
For the Orange Ice Cream, place milk, cream, orange zest and juice into a small saucepan and heat to just below boiling point.
Meanwhile, whisk egg yolks and sugar in a medium bowl until thick and pale. Once milk mixture is hot, whisk into the egg mixture until combined and smooth. Return the anglaise to the saucepan and place over a low heat. Stir continuously until mixture reaches 83C. Immediately remove from heat, transfer mix into a medium bowl and place in the prepared bowl of iced water to cool.
When anglaise is cool, transfer to the pre-chilled ice cream machine and churn according to manufacturer's instructions. Once churned, transfer ice cream to freezer until needed.
For the Chocolate Mousse, place icing sugar and dark chocolate into a heatproof bowl and set aside. Place cream in a small saucepan and bring to just below boiling point. Pour hot cream over chocolate and allow to sit for 2 minutes, then stir to ensure chocolate is melted. Set mousse aside in the fridge until needed.
For the Chocolate Brownie, place pistachios and flour into the bowl of a small food processor and process to a fine crumb. Transfer the crumb to a large bowl and set aside.
Place the butter and chocolate in a microwave safe bowl and melt in 30 second bursts, stirring after each interval, until melted and mixture is smooth. Pour the chocolate mixture over the crumb, add the eggs, sugar, salt, baking powder and orange zest and mix together until well combined.
Place the brownie mixture into a deep brownie pan or loaf tin about 21 x 13cm. Place in pre-heated oven and bake until nearly set, with a slight wobble in the centre, about 30 – 35 minutes. Remove from oven and cool in tin for 10 minutes. Turn out onto a wire rack and allow to cool.
Once cool, spread Chocolate Mousse over brownie, smooth top and place in fridge to set.
For the Chocolate Glaze, place a small saucepan, 1/3 filled with water, on the stovetop over high heat and bring to the boil.
Meanwhile, place sugar and 20g water in a small frypan over medium heat and stir until sugar dissolves. Transfer the sugar syrup to a medium heatproof bowl, add chocolate and butter and place over the saucepan of simmering water. Stir until the chocolate and butter melt and mixture is combined. Remove bowl from heat and set aside to cool.
Increase oven to 180C.
For the Orange Crumb, place all ingredients in a medium bowl and mix with fingertips to a fine crumb. Spread the mixture onto a baking tray lined with baking paper and bake until golden brown, about 10 – 12 minutes. Remove from oven and set aside to cool on the tray until needed.
To serve, slice brownie into 3cm thick slices and place on a wire rack sitting over a baking tray. Pour Chocolate Glaze over brownie slices and allow the excess to drip off. Place glazed slices of brownie onto serving plates. Spoon Orange Crumb around the base of the brownie. Add 4 orange segments to each plate, around the base of the brownie. Add one fresh raspberry on top of each brownie, to one side. Place a scoop of Orange Ice Cream next to each brownie. Garnish with fennel fronds.