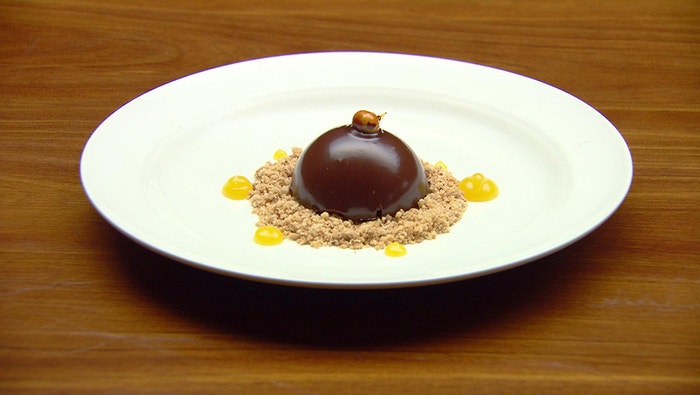 Steps
Preheat oven to 180C.
For the Passionfruit Yuzu Jelly, remove the pulp from 5 passionfruit and place in a saucepan. Add yuzu juice, sugar, 125ml water and mix well. Set over medium heat and bring to a boil. Add agar agar and whisk the mixture vigorously until it dissolves, about 1-2 minutes. Remove from heat and pour the mixture through a sieve into a small shallow tray. Place in fridge to cool and set, about 10 - 15 minutes.
Place set jelly into the canister of a stick blender and puree until smooth, adding a little water if required. Transfer half of the puree into a squeeze bottle and set aside for serving. Set the remaining aside to fill the Chocolate Mousse.
For the Chocolate Mousse, place chocolate into the top bowl of a double boiler and allow chocolate to melt. Add 120g warm thickened cream and stir to combine. Remove from heat, add bloomed gelatine and stir until dissolved. Set aside to cool.
Meanwhile, whisk the remaining 160ml thickened cream to firm peaks. Fold into the cooled chocolate mix until just combined then pour the mixture into 6 x 7cm silicone dome moulds and place in freezer to set, about 30 minutes.
Once the mousse is set, use a melon baller to scoop out some mousse from the centre of each dome and fill with Passionfruit Yuzu Jelly. Return the filled Chocolate Mousse to the freezer.
For the Mirror Glaze, place sugar and 125ml water in a saucepan and set over medium heat until sugar melts. Add dark chocolate and stir until melted and well combined then remove from heat.
Add the bloomed gelatine and stir until dissolved. Add thickened cream and stir until well combined. Strain through a fine sieve into a pouring jug. Set aside to cool until serving.
For the Hazelnut Crumb, place hazelnuts on a tray and place in oven to toast until golden brown, about 15 minutes. Transfer to a clean tea towel and rub to remove skins. Set aside 4 hazelnuts for the Hazelnut Praline. Place remaining hazelnuts into a food processor and process until fine.
Place ground hazelnuts, plain flour, caster sugar, butter and salt in a bowl and rub together with finger tips to a crumble. Spread onto a lined baking tray and place in oven to bake, stirring halfway through, until golden, about 15 minutes. Remove from oven and set aside until serving.
For the Hazelnut Praline, insert a toothpick into each hazelnut. Place sugar into a small frypan and melt over low heat until golden. Remove from heat then dip each hazelnut into the toffee, ensuring it is evenly coated. Place onto lined tray and remove toothpicks when cool enough to handle. Set aside until serving.
To serve, remove the Chocolate Mousse from the freezer. Remove from silicone moulds and place on a cooling rack sitting over a tray. Pour Mirror Glaze over the Chocolate Mousse to coat evenly, allowing excess to drip off. Place some Hazelnut Crumble in the centre of each serving plate. Add a glazed Chocolate Mousse, a Hazelnut Praline and a few drops of Passionfruit Yuzu Jelly.