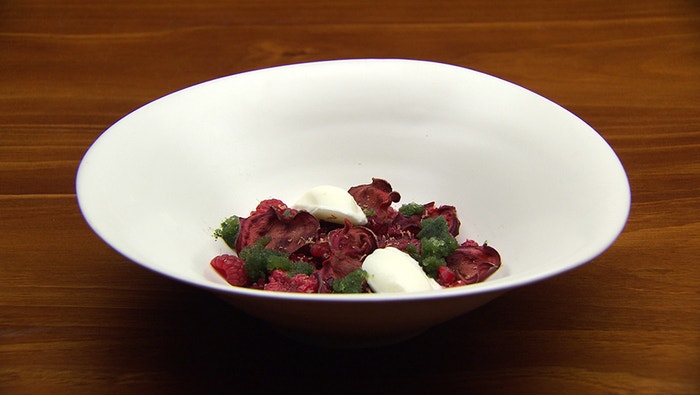 Steps
Pre chill ice cream machine and preheat oven to 160C.
For the Elderflower Yoghurt Sorbet, place milk, glucose and caster sugar into a small saucepan. Set over medium heat and bring to boil to dissolve glucose and sugar. Remove from heat and allow to cool.
Meanwhile, place elderflower cordial and yoghurt in a bowl and whisk to combine. Add cooled sugar syrup and whisk to combine.
Place gelatine in small saucepan with 1 tablespoon of water. Place on low heat and stir to dissolve gelatine, being careful not to overheat. Remove from heat and whisk into yoghurt mixture.
Transfer to ice cream machine and churn for 40 minutes or according to manufacturer's instructions. Transfer sorbet to freezer.
For the Chocolate Ganache, place cream into a small bowl set over small saucepan of boiling water. Heat, stirring regularly to avoid burning cream, to just below simmer point
Place chocolate in medium mixing bowl. Pour hot cream over chocolate. Stir with silicon spatula until all cream and chocolate is combined. Set aside in fridge to cool until ready to serve.
For the Beetroot in Raspberry and Hibiscus Vinegar, place all ingredients, except beetroot, along with 125ml water into a small saucepan. Bring to the boil then reduce heat and simmer for 40 minutes to infuse vinegar with raspberries.
Meanwhile, place grated beetroot into a medium microwave safe bowl. Strain raspberry mix through fine sieve over beetroot. Cover and microwave beetroot on high until tender with slight bite remaining, about 90 seconds. Strain beetroot and set aside.
For the Basil Granita, blanch basil leaves in a large pan of boiling water for 20 seconds. Refresh in iced water. Pat dry and transfer basil to a blender. Add remaining ingredients and 125ml water and blend on high until smooth, about 1 minute.
Strain mixture into small baking tray and place in freezer. Freeze for 30-35 minutes, scraping a fork through mixture every 10 minutes. Set sorbet aside in freezer.
For the Raspberry Gel, place raspberries, icing sugar, and125ml water into a blender. Blend on high speed until smooth, about 1 minute.
Place gelatine and 1 tablespoon water into a small saucepan, set over low heat and stir to dissolve. Add to raspberry mixture and blend to combine. Strain into a small baking tray measuring 14cm x 24cm, to a depth of 5mm. Set aside in fridge to set.
For the Beetroot Leaves, slice beetroot into 1mm slices using a mandolin. Place on lined baking tray and bake for 15-20 minutes or until crisp. Remove from oven and set aside to cool.
To serve, pipe a mound of Milk Chocolate Ganache in the centre of each serving bowl.
Cover with Raspberry and Hibiscus Beetroot. Spoon small amounts of Raspberry Jelly around plate.
Quenelle two small amounts of Elderflower Yoghurt Sorbet on top of beetroot.
Scatter small amounts of Basil Granita around plates and garnish with fresh raspberries broken into segments. Finish with grated milk chocolate over the top of dishes.