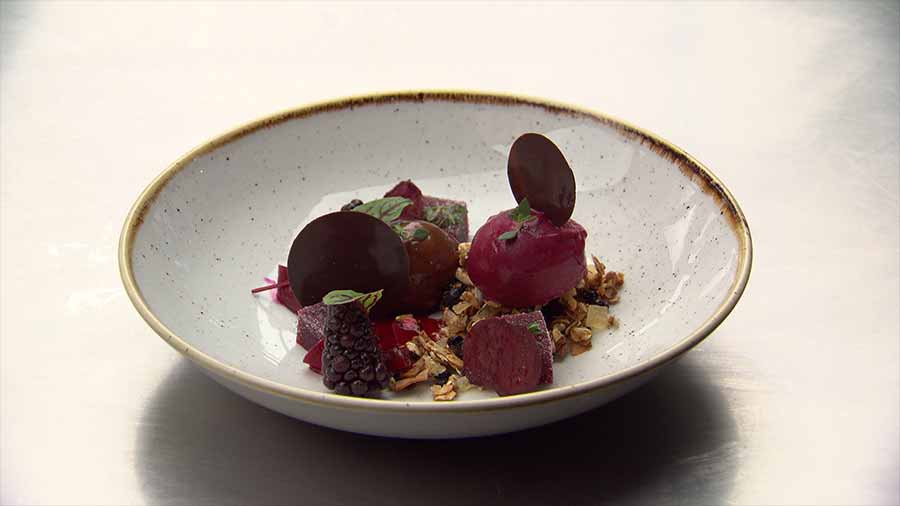 Ingredients
Pickled Beetroot and Crispy Beetroot Discs
Steps
Preheat the oven to 180C.
For the Beetroot Semi Freddo, line a shallow baking tray with a bed of rock salt. Wash beetroots and dry well. Wrap beetroots individually in foil and place onto the bed of rock salt. Place into the oven to roast for 90minutes. Remove from the oven and use wrapped foil to slip off the beetroot skins. Chop peeled beetroots roughly, transfer to a blender and purée until smooth. Pass through a sieve and reserve 2 tablespoons for the Pickled Beetroot. Transfer remaining beetroot purée to a shallow tray and place into the freezer to set, about 2 ½ hours.
Place defrosted blackberries with ½ cup of water into a blender and purée until smooth. Pass through a sieve onto a shallow tray and place into the freezer until set, about 2 ½ hours.
Remove the frozen purées from freezer and break up into small pieces. Place into a food processor with egg white and icing sugar and blitz on high until mixture comes together and becomes smooth and slightly creamy, about 3-4 minutes.
Transfer the semi freddo mixture to a medium metal bowl and smooth the surface with a rubber spatula. Line the surface of the semi freddo with some baking paper and place into the freezer until needed.
For the Blackberry Jubes, prepare small shallow 22cm x 16cm tray with a little oil, using paper towel remove excess oil.
Place frozen blackberries and 150ml of water into a Vitamix and blitz to a smooth purée. Pass purée through a fine sieve, and then transfer to a medium saucepan. Add glucose and 400g of the sugar to the saucepan of blackberry purée and stir well until combined. Place over medium heat and bring to the boil, stirring occasionally. Meanwhile, combine pectin and remaining 35g of the sugar in a small bowl. Once purée mixture is boiling, whisk in the pectin and sugar mixture with 100ml of water and continue to cook, whisking occasionally, until mixture reaches 106C.
Meanwhile, combine 100ml of water and citric acid in a large mixing bowl and mix until dissolved.
Once blackberry mixture is at temperature, remove from heat and working quickly, whisk in the citric acid solution until dissolved. Pour mixture onto the prepared tray, working quickly as it will start to set. Allow to cool slightly then place into the fridge to set, about 30 minutes.
Remove from fridge and cut into 2cm cubes. Place sugar and thyme leaves into a small bowl and add jube cubes. Toss gently to coat. Set aside on a tray lined with baking paper.
For the Pickled Beetroot and Crispy Beetroot Discs, combine vinegar, sugar and beetroot purée in a small saucepan over medium heat and cook until sugar has dissolved. Use a 3.5 cm ring cutter to cut the sliced beetroot into discs then transfer to a bowl. Pour the pickling liquid over the beetroot and set aside to pickle for 5 minutes.
Take 8 of the beetroot slices and lay out onto a pizza tray lined with baking paper. Set remaining pickling beetroots aside in liquid until needed for plating.
Place pizza tray of beetroot slices into the oven at 180C until crisp about 10-12 minutes. Once crisp, remove from the oven and set aside until needed.
For the Ginger Granola, line a baking tray with baking paper. Spread nuts, oats and seeds onto the lined tray. Sprinkle ground ginger over the top of the granola mix and use hands to gently toss to coat. Drizzle the honey over the granola mix.
Place into the oven to roast until golden, stirring occasionally, about 30 minutes. Remove from the oven and allow to cool, and then transfer to a mixing bowl. Add chopped fruit and ginger and place back into the oven for a further minute. Remove from oven, mix through coconut chips and set aside.
For the Tempered Chocolate Discs, place chocolate into a heatproof bowl and melt in the microwave in 30-second bursts until three quarters of the chocolate is melted. Stir until the chocolate reaches 31-32C then pour onto an acetate sheet. Spread thinly using an offset palette knife to 1mm thick and set aside to cool slightly. Use a 3.5 cm ring cutter to cut 6 discs of chocolate and a 4.5 cm ring cutter to cut another 6 discs. Set aside to set completely. Once set, gently push the discs to release from the acetate sheet and place onto a paper lined tray.
For the Chocolate Mousse, place a medium saucepan half filled with water over medium heat and bring to the boil. Place chocolate into a medium sized metal bowl and place over the saucepan of boiling water. Turn heat off and allow the chocolate to melt, stirring occasionally, until completely melted. Once melted, remove bowl from heat, transfer to a clean large glass bowl and allow to cool. Once cool, stir in the hazelnut oil until well combined.
Meanwhile, place the cream in a medium bowl and use a whip to soft peaks stage.
Gently fold the cooled chocolate and oil mixture into the cream until completely incorporated and smooth and serve straight away. Note: this will not keep in the fridge.
To plate, use an ice cream scoop to scoop a ball of the Chocolate Mousse, slightly off centre into the bowl. Spoon some of the Ginger Granola next to the ball of Chocolate Mousse. Add three of the Blackberry Jubes. Add a few of the Pickled Beetroot and a few micro red vein sorrel leaves. Add 2 fresh blackberries. Add some of the Dehydrated Pickled Beetroot and rest a Tempered Chocolate Disc against the Chocolate Mousse. Place a scoop of the Semi Freddo onto the mound of Ginger Granola then gently push a Tempered Chocolate disc into the semi freddo. Finish with a few pickled thyme leaves and a spoonful of the reserved pickling syrup.