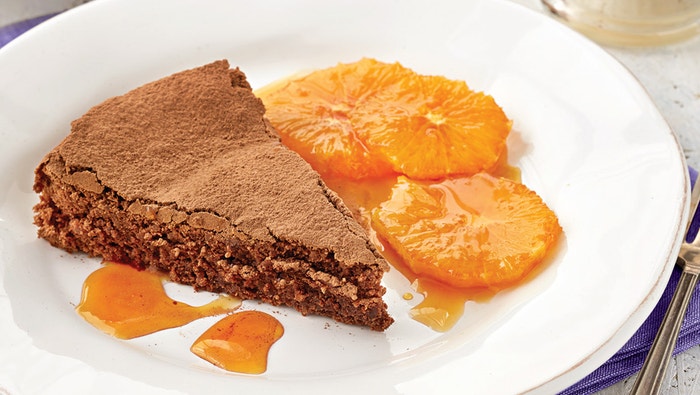 Steps
COMBINE the chocolate and PHILLY in a heatproof bowl and stir over a saucepan of gently simmering water, making sure the water doesn't touch the bowl. Cool slightly.
PLACE the walnuts, 2 tablespoons of the caster sugar, cornflour and the cardamom in a food processor and pulse to finely grind the nuts.
WHISK together the yolks and 2 tablespoons sugar, then whisk in the chocolate mixture, then the nuts, vanilla and orange rind.
BEAT the egg whites until soft peaks form. Continue beating whilst gradually adding the remaining sugar until the mixture is thick and glossy. Whisk 1/4 of the whites into the chocolate mixture then gently fold the remaining whites through. Pour into a greased and base lined 23-24cm spring form pan.
BAKE in a moderate oven 180°C for 35-40 minutes or until cooked when tested. Allow to cool in pan on a wire rack for 10 minutes before releasing from pan to cool completely.
PLACE the sugar and water in a saucepan and cook, stirring occasionally, until sugar has dissolved. Boil, without stirring, until deep golden. Remove from heat and carefully pour in orange juice and stir to combine. Place orange slices in a heat proof dish and pour over caramel. Allow to cool then chill until required.
TO serve, dust cake with cocoa and serve with Caramel Oranges and cream.