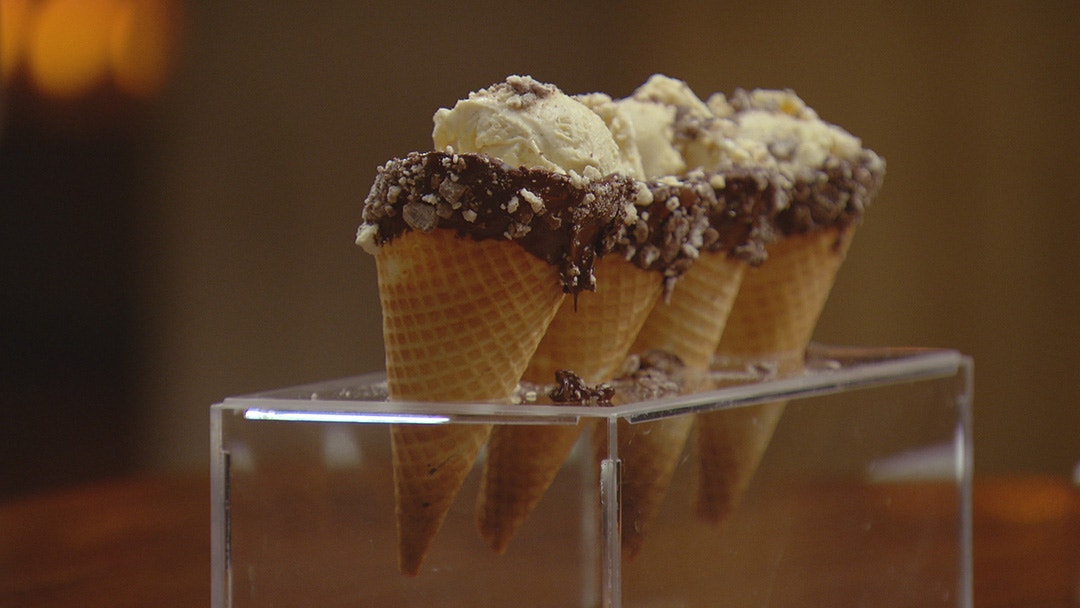 Steps
Pre-chill an ice cream machine and prepare an ice bath in a medium bowl.
For the Popcorn Ice Cream, place the cream, milk, vanilla bean, vanilla seeds and cooked popcorn into a medium saucepan. Place over medium heat and stir until mixture reaches just below boiling point. Remove from the heat.
Meanwhile, place the egg yolks and sugar together into the bowl of an electric mixer fitted with a whisk attachment and whisk until thick and pale.
While whisking, slowly add one third of the hot popcorn cream mixture to the egg mixture and whisk until combined.
Transfer the egg mixture to the saucepan of popcorn cream mixture. Place over medium-low heat and cook until mixture thickens and reaches 84C. Remove from the heat and pour into medium bowl. Place over the ice bath and stir occasionally until cold.
Pour the mixture through a sieve into a bowl, pressing the popcorn with a spatula to release as much liquid as possible. Pour the mixture into the ice cream machine and churn according to manufacturer's instructions. Place into the freezer until required.
Preheat a waffle cone maker.
For the Waffle Cone, place the egg whites, sugar and vanilla seeds into a medium bowl and whisk until smooth. Whisk in a pinch of salt and half of the flour. Whisk in the melted butter then add the remaining flour and whisk until smooth.
Spoon 2 tablespoons of batter into the centre of the base plate of the waffle cone maker, close the lid and cook for 3-4 minutes until golden all over.
Remove waffle and working quickly, wrap around a cone mould, ensuring the pointed end is sealed. Place the cone seam side down onto the bench until cool. Remove the mould from the cone.
Repeat process with the remaining batter to make a total of 6 cones.
For the Caramel Popcorn, line a small tray with baking paper and set aside.
Place the sugar and 25ml water into a small saucepan and stir over low heat until sugar dissolves. Use a wet pastry brush to remove sugar crystals from the inside of the saucepan then boil, without stirring, until golden in colour.
Remove from the heat and stir in the popcorn. Pour onto the prepared tray and spread in a single layer to cool.
Once cool, break into pieces and crush using a mortar and pestle.
To assemble, place the melted chocolate into a shallow bowl and the crushed Maltesers into a separate bowl.
Dip the rim of each cone into the melted chocolate and immediately into the crushed Maltesers and place into an ice cream cone stand to set. Pour 1 tablespoon of melted chocolate into base of each cone. Spoon some Maltesers and Caramel Popcorn inside each cone. Top each with a large scoop of Popcorn Ice Cream and sprinkle with remaining crushed Maltesers and Caramel Popcorn. Serve immediately.