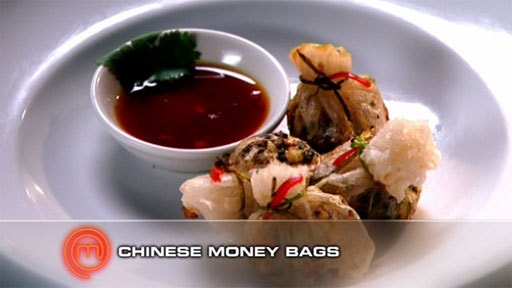 Steps
Soak shitake mushrooms in water for at least 30 minutes.
Finely dice Swiss brown mushrooms.
Finely chop garlic.
Heat oil and fry garlic and mushrooms until soft and golden.
Finely dice drained shitake mushrooms, baby corn and bamboo shoots. Add the garlic and mushrooms to mixture.
Season with salt and pepper, soy sauce, squeeze of lemon and mix together - taste for seasoning.
Place a teaspoon of mushroom mixture in centre of rice paper roll wrapper that has been pre-softened in hot water.
Use blanched coriander stems to tie up wrapper around mushroom filling to form a pouch.
. Snip off excess wrapper and stems to create money bag.
Heat oil in saucepan until hot. Drop bags into hot oil and flash fry until wrapper puffs up and turns golden, making sure that bags do not stick together.
Drain moneybags on absorbent paper. Garnish with slithers of red chilli for colour.
Dipping sauce
Mix lemon, light soy and chilli to taste. This recipe has been written by an amateur chef and has not been tested by the MasterChef food department.