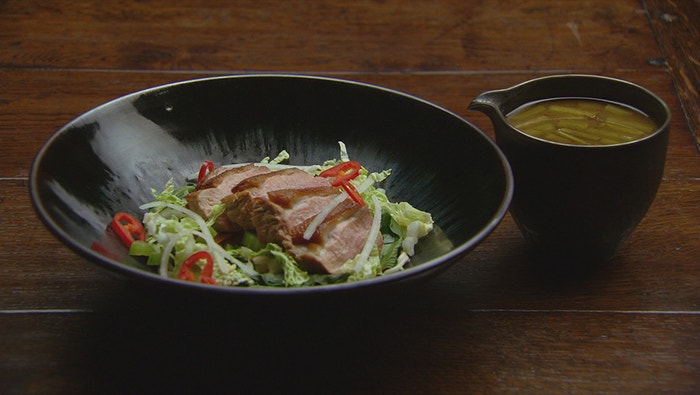 Steps
Preheat oven to 180C.
For the Chinese Duck Broth, place the ingredients, except spinach leaves and stems, along with 2 cups water to a pressure cooker. Seal and cook on high pressure for 30 minutes then release pressure. Season the broth to taste. Strain through a fine sieve into a medium saucepan. Add the water stems to broth, cover and set aside.
Bring a small saucepan of water to the boil. Prepare an ice bath in a small bowl.
Blanch the water spinach leaves in boiling water for 1 minute. Transfer the leaves to the iced water to cool. Drain through a colander and set aside.
For the Noodles, bring a large saucepan of salted water to the boil.
Place the flour into a medium bowl. Slowly add approximately 2/3 cup room temperature water, using fingertips to bring the ingredients together in a dough.
Transfer to a lightly floured bench. Knead dough for 5 minutes then roll into a ball. Wrap in cling film and set aside for 5 minutes.
Divide dough into 4 portions. Lightly flour the dough portions and pass each through a pasta machine through the settings until halfway through the settings. Pass through the spaghetti attachment and lightly dust with flour to avoid noodles sticking together and set aside on the bench.
When ready to serve, place noodles into the boiling water for 2 minutes. Plunge into cold water then drain in a colander. Toss through a few drops of sesame oil. Divide noodles between serving bowls and set aside.
For the Duck Breast, score the duck skin. Place oil into a frying pan and add the duck breasts to the pan, skin side down. Place the pan over low heat for 7 minutes then turn over and cook for a further 2 minutes. Turn duck back over to skin side and place into the oven until the internal temperature reaches 50C, about 5-8 minutes. Remove from the oven and transfer the duck to clean chopping board and rest until the internal temperature reaches 54C. Season the skin with salt and slice each breast diagonally into four portions to serve.
To serve, return the broth to the boil. Place blanched spinach, carrot and daikon into the serving bowls. Top with slices of duck breast then finish by garnishing with remaining fresh vegetables. Pour hot broth into the bowls to serve.