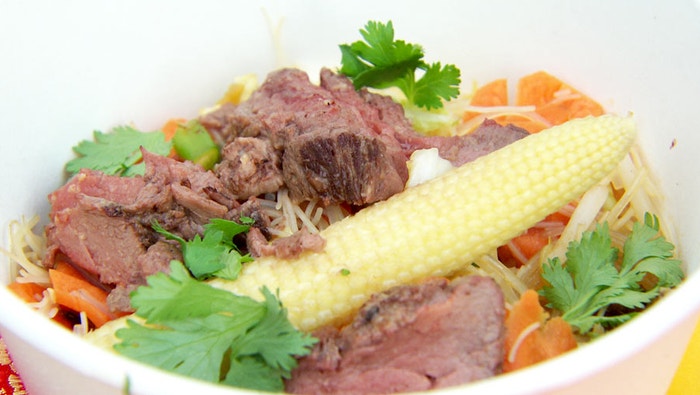 Steps
Preheat oven to 200C.
Combine marinade ingredients in a saucepan and mix well to combine.
Remove 2 tbsp of the marinade and transfer in a medium bowl. Place the piece of beef in the bowl and toss to coat in the marinade. Place the beef on small tray or plate and set aside in fridge to marinate for one hour.
Meanwhile, bring marinade in the saucepan to the boil. Reduce heat and simmer for 5 minutes, or until thickened. Remove from heat and set aside until needed.
Bring a saucepan of water to the boil. Once boiling, add noodles and blanch for 3 minutes or according to package instructions. Remove noodles from saucepan and refresh in cold water. Drain thoroughly and set aside in large bowl until needed.
For the vegetables, blanch baby corn for 3 minutes in boiling water. Remove from saucepan and refresh in a bold of iced water. Add the corn to the bowl of noodles.
Finely shred wombok, slice carrots and top and tail bean shoots, then add to noodles.
Heat a BBQ plate or large frypan over high heat. Remove beef fillet from fridge and sear on hot grill plate or in frypan until sealed on all sides. Transfer beef to pre-heated oven and cook for 10-12 minutes until medium rare. Remove from oven and rest fro 4 minutes before serving.
To serve, pour cooled sauce over noodles and vegetables. Toss gently to coat. Divide between 4 serving bowls. Slice rested beef into thin slices. Divide beef evenly between the 4 bowls, sitting on top of salad.