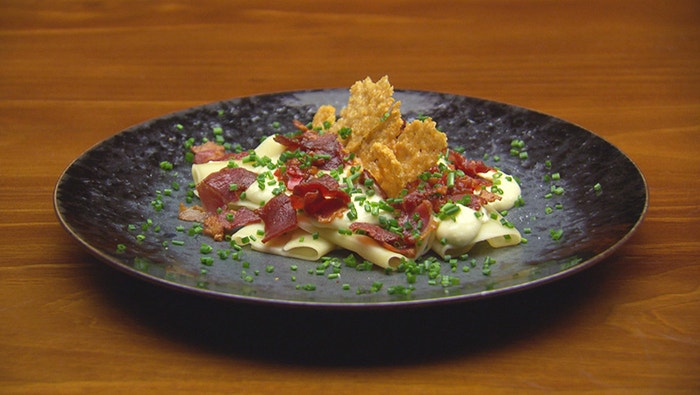 Steps
Preheat oven to 180°C.
For the Cheese Sauce, first make a roux. Melt the butter in a medium saucepan over medium heat. Add the flour and use a silicone spatula to stir quickly until a smooth paste is formed. Continue to cook the paste, stirring continuously, for 1-2 minutes.
Add milk and stir to incorporate the milk. Add the cream and stir well to combine. Continue to cook, stirring, until slightly thickened.
Stir in the cheeses, one by one, stirring well after each addition until smooth. Adjust the consistency with extra cream to loosen if required. Remove from the heat, season with salt and pepper to taste then set the sauce aside until needed.
For the Parmesan Tuile, line a baking tray with baking paper. Place a 5cm ring cutter onto one corner of the tray. Using the ring cutter as a mould, fill the ring cutter with ¼ of the grated parmesan to create a parmesan disc. Repeat this process with the remaining parmesan until you have 4 discs of parmesan on the tray. Place the tray of parmesan discs into the oven and bake until golden brown, about 8-10 minutes. Remove from oven and set aside.
For the Crispy Prosciutto, place a medium saucepan over medium heat. Add the slices of prosciutto and cook until crisp, about 7-8 minutes. Remove from the saucepan and set aside on paper towel to cool. Break up into small pieces and set aside until needed.
For the Chilli Sauce, place all ingredients into a food processor and blitz to a coarse purée. Transfer to a small saucepan and place over medium heat, stirring occasionally until reduced to a jam-like consistency, about 12-15 minutes. Remove from the heat and set aside until needed.
To cook the Pasta, bring a large saucepan of salted water to the boil over high heat. Add the cannelloni tubes and cook until al dente, about 9 minutes. Drain and set aside.
To serve, divide half of the Cheese Sauce amongst 4 shallow serving bowls. Arrange 4 cannelloni tubes on top of the Cheese Sauce on each plate, dress with the remaining Cheese Sauce and then some Chilli Sauce. Sprinkle some pieces of the Crispy Prosciutto and chopped chives. Top with a Parmesan Tuile and serve.